Tyson Fury vs. Deontay Wilder Power Comparison: Who Hits Harder?
Published 10/04/2021, 3:02 PM EDT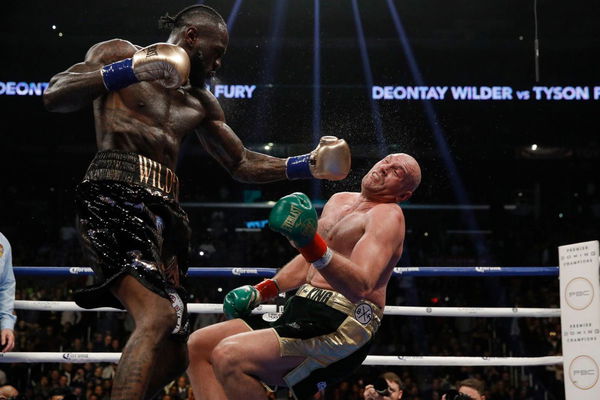 ---
---
The Tyson Fury vs Deontay Wilder rivalry is straight out of a movie. From dropping each other cold to rising back from the ashes, this has proven to be a dream heavyweight matchup for all fans of the sport. The intense bad blood between the two makes it all even more exciting.
ADVERTISEMENT
Article continues below this ad
Their first fight will definitely go down in the history books as one of the most dramatic fights of all time. Deontay Wilder started off strong, showed that he deserves to be the WBC heavyweight champion of the world. He used his big right hand effectively; for a moment, it seemed as if he was the more dominant fighter.
ADVERTISEMENT
Article continues below this ad
But what Wilder did not foresee was the heart that Tyson Fury brought into that fight. He proved to the world that night that nothing could be done to stop him. In the second half of the fight, 'The Gypsy King' outboxed his American opponent. The 12 proud bouts ended in a draw.
However, in the subsequent rematch, Tyson Fury completely dominated Wilder and became the new WBC heavyweight champion.
Tyson Fury vs Deontay Wilder – Who hits harder?
Tyson Fury has proven that he is the better all-around boxer in terms of movement, footwork, and even striking; however, many still wonder if 'The Gypsy King' hits harder than the Alabama native, who is notorious and infamous for his knockout power.
The following is a detailed breakdown of how both Wilder and Fury hit. This could help you make up your mind about who hits harder.
Deontay Wilder is blessed with insane knockout power
Most often forget who 'The Bronze Bomber' really is. Before Tyson Fury stepped into the narrative, Deontay Wilder was undefeated with 40 wins and 39 knockouts. To understand who he truly was before Fury, think about his knockout rate for a minute.
He walked over his opponents and quite literally dropped all of them except Bermane Stiverne in 2015. However, that did not sit well with Wilder. So, he knocked Stiverne out cold in a 2017 rematch. With that, Deontay Wilder has essentially dropped every opponent he has ever faced, except Tyson Fury.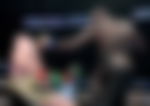 BleacherReport's Kelsey McCarson picked Deontay Wilder as the more powerful puncher in comparative analysis. The 'Head-to-Toe Breakdown' piece read –
"Wilder compares favorably to such beasts from boxing history as Jack Dempsey, Joe Louis, George Foreman, and Mike Tyson. The idea that Wilder could even be listed among those stalwarts is breathtaking, and the stone-cold fact that he might actually hit harder than any of them is something that shouldn't go unnoticed".
Tyson Fury hits just hard enough to win
Unlike Deontay Wilder, Tyson Fury is not the biggest knockout artist. Since his start in professional boxing in 2008, the Gypsy King has bagged 30 wins with 21 knockouts.
However, his striking is well aligned with his non-heavyweight movement, footwork, and defense. Fury is one heavyweight who you'd see shoulder rolling along the ropes and dodge all shots thrown at him.
He hits like a heavyweight, moves like a featherweight, and defends himself like a middleweight.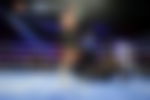 However, fans saw a different and much aggressive version of 'The Gypsy King' in the second Wilder fight. He knocked the Alabama native down multiple times in the rematch and won by TKO.
McCarson pointed out that even Tyson Fury is a hard-hitter but that he comes nowhere near what Wilder brings to the table. In addition, he highlighted that Fury is a lot like Floyd Mayweather; he has an overall higher fight IQ and that he hits just hard enough to win.
A closer look at what it feels like to get hit by these two
To better understand Deontay Wilder's true strength, here's a look at him hitting a punching machine. His key asset and the biggest weapon is his 'big right hand'. In this video, Wilder explains that he had an injured right hand at the time, so he hit the machine with his left.
Even with the left hand, 'The Bronze Bomber' racked up a score of 927, which is more than enough to drop an opponent.
On the other hand, there is no real way to quantify Tyson Fury's punching power. While Wilder lands heavier punches, Fury is definitely not a light shooter.
In this close-up video, Fury can be seen dropping Wilder and as soon as he got back up, he landed a sharp straight right hand that immediately stunned and dropped Wilder once again. The pop heard in the video just goes to show how heavy that particular shot must have been.
This particular punch hurt Deontay Wilder bad; so much so that he had to be taken to the hospital directly after the fight.
Before the rematch, Wilder had criticized Fury for being a light-hitter. The Englishman then took this opportunity to dig back into the former WBC champ over his comments.
ADVERTISEMENT
Article continues below this ad
"Don't forget, when I came here they said I can't punch.
"Deontay Wilder said himself that I've got two pillow fists. But you know, not bad for an old fat guy who can't punch, eh? Done alright, didn't I?
"I'm an old feather duster who can't break an egg," said Tyson Fury.
ADVERTISEMENT
Article continues below this ad