'Tyson Tried to Bully Him' – Ron Borges Recollects Infamous Pool Incident Between Mike Tyson and Evander Holyfield
Published 01/19/2021, 7:19 AM EST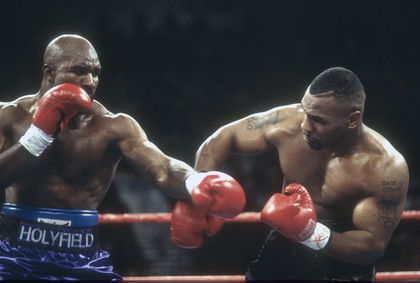 ---
---
Heavyweight icons- Mike Tyson and Evander Holyfield are remembered for the heated-rivalry that saw the boxing community split into two halves. Following two gruesome encounters in 1996 and 1997, an incident in the Tyson-Holyfield feud became the stuff of legends.
ADVERTISEMENT
Article continues below this ad
However, the relationship wasn't all bad-blood from the beginning. Initially, Tyson and Holyfield were friends and had sparred together several times as amateurs. Although they opted to assist each other,  there was seemingly a sense of competition between them. Boston Globe's Ron Borges revealed an intriguing moment between Holyfield and Tyson from the past.
He recalled a pool table incident that seemingly formed the rivalry. While Borges saw the incident happen live, he was one of the rare persons to have predicted that Holyfield would surpass Tyson in their professional collision in 1996.
ADVERTISEMENT
Article continues below this ad
As per Talk Sport, Borges said, "One of the things I knew, dating back to when Holyfield and Tyson were amateurs, was the pool table incident. One night they were all playing pool at the Olympic Training Center in 1984 and it was one of those deals where if you lost, you gave up the table."
He added, "Tyson lost and it was Holyfield's turn to play. Tyson tried to bully him. Holyfield walked up to Tyson, didn't say a word and took the cue stick from him. Tyson left the room and nobody saw him for the rest of the night. I always had it in the back of my mind that Tyson knew if there was one guy he couldn't intimidate, it was Evander Holyfield."
Tyson may have also learned this whilst engaging in sparring sessions with 'The Real Deal' once no other boxer wanted to spar with him as an amateur.
Mike Tyson and Evander Holyfield- A Surprise moment
Despite the rivalry, Tyson and Holyfield are good friends. They have been together in several television shows and public appearances. But they might just have a third clash left within themselves.
ADVERTISEMENT
Article continues below this ad
Following Tyson's return against Roy Jones Jr, Holyfield demanded the trilogy fight as a special exhibition. Tyson is yet to respond to the offer. But if he accepts the challenge, we might see one of the biggest heavyweight clashes of all time materialize nearly a quarter of a century later.
Do you see Mike Tyson fighting Evander Holyfield?
ADVERTISEMENT
Article continues below this ad