'Tyson Was Wide Open for a Holmes Uppercut and His Arm Gets Caught': Mike Tyson's Iconic Picture of Avenging Muhammad Ali Draws Wild Reactions From Boxing World
Published 01/23/2023, 1:15 PM EST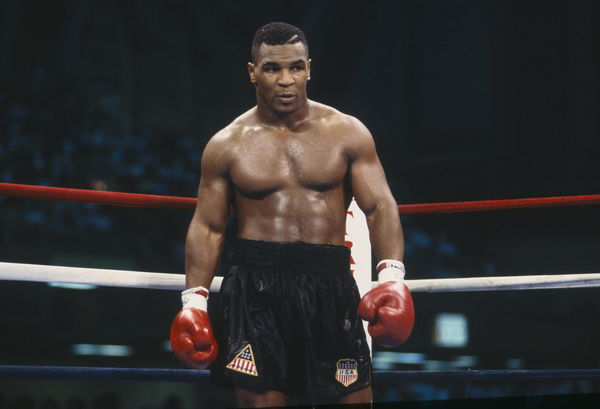 In 1988, Larry Holmes, the former WBC and IBF heavyweight champion ended his long layoff by agreeing to face the then WBC, WBA, and IBF heavyweight champion, Mike Tyson. The fight gained hype because Holmes was an established icon in boxing. He gained enormous fame back in 1980 by defeating arguably the greatest heavyweight champion of all time, Muhammad Ali. Interestingly, Ali was Tyson's boxing idol. While talking on the Michael Rapaport podcast, Mike Tyson gets emotional and says, "Ali is a giant. There's no other fighter that can match him".
So, when his fight against Holmes came to fruition, Tyson's approach became very clear. He was not looking at Holmes as a mere opponent. He pre-assumed the latter as his enemy who beat his idol. Amid an electrifying crowd, the duo met at Trump Plaza in Atlantic City. Holmes, who was going through the diminishing phase of his career has only a physical advantage against young strong 'Iron' Mike. Of course, he could not milk it and got dominated by 'Iron Mike' who was in the peak of his greatness.
Ali was present in the venue and entered the ring before the fight. Ali told Tyson, "Get him for me". He tried to neutralize the rage Tyson brought to the ring but failed and eventually got knocked out in the fourth round. A picture of this historical event recently surfaced on Facebook. A page named Boxing History posted it and wrote, "#OnThisDay in 1988, Mike Tyson defended the unified heavyweight championship with a 4th round TKO of Larry Holmes in Atlantic City, New Jersey."
ADVERTISEMENT
Article continues below this ad
Read more: How Mike Tyson Avenged Muhammad Ali
When fans came across this, they could not stop themselves from pouring their reactions.
How did fans react to the post recalling Mike Tyson beating Larry Holmes?
A fan wrote, "Til this day, I've always wondered what would've happened if Holmes' arm doesn't get caught in the rope. Tyson was wide open for a Holmes uppercut and his arm gets caught."
Another fan wrote, "We all know Tyson was great but Larry Holmes was only a shell of what he once was when he fought Tyson."
One user wrote, "I have always felt this was the best performance of Mike's career. He beat one of the greatest fighters in history on that night in very convincing fashion."
Another user wrote, "Tyson "I wish I could of fought him when I was 16 cos I would of beat him then. I grew up watching him I knew exactly how he fights and knew exactly how to beat him".
ADVERTISEMENT
Article continues below this ad
Another fan wrote, "Holmes deserved this for showing no mercy against an old Ali when they fought."
"Was Holmes 1 or 2 years out of boxing before taking this fight. Would have been different if holmes in his prime", another fan wrote.
This fight made Tyson a bigger star. By sending Holmes to retirement, Tyson improved his record to 33-0.
ADVERTISEMENT
Article continues below this ad
What do you think of Tyson's win over Holmes? Let us know in the comments below.
Watch This Story: Mike Tyson's Last 5 Fights in Boxing
Edited By: Shibu Immanuel