Floyd Mayweather Will Fight Khabib Nurmagomedov or Conor McGregor Next – Claims Paulie Malignaggi
Published 05/13/2020, 1:48 PM EDT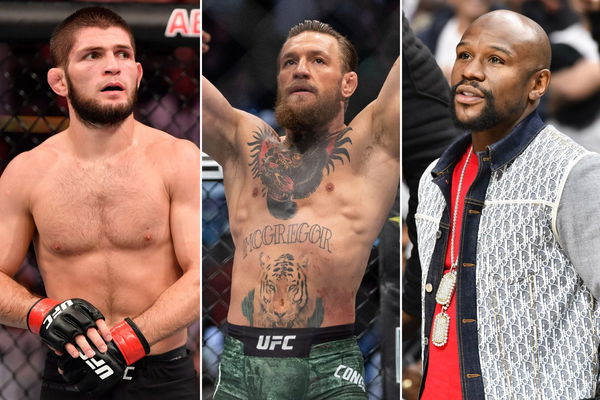 Former training partner of Conor McGregor—Paulie Malignaggi—said that Floyd Mayweather will fight a UFC fighter next, and not a boxer.
ADVERTISEMENT
Article continues below this ad
Malignaggi, who is a retired boxer and an analyst at Showtime, is certain that Floyd Mayweather will fight someone like Conor McGregor or Khabib Nurmagomedov in a boxing match. Malignaggi also claimed that Mayweather will not return to fight the Filipino, Manny Pacquiao.
In his last pro match, Floyd boxed McGregor and earned a whopping $275 million. However, Malignaggi acknowledged that Mayweather vs Pacquiao 2 could generate more money than any other fight. So what's stopping Floyd from boxing Pacquiao again? According to Malignaggi, there is a high risk of losing against a boxer like Pacquiao.
ADVERTISEMENT
Article continues below this ad
Paulie Malignaggi explains why Floyd Mayweather will fight an MMA fighter
"I think it might do more business than any fight in boxing that can be made," Malignaggi told BoxingScene.com. "But I think if Mayweather fights Khabib or McGregor in boxing, not only are they easier fights, it also brings in more money because Khabib and McGregor are still considered to be in their promotional primes in MMA."
ADVERTISEMENT
Article continues below this ad
"Khabib is in his prime in every way – he's undefeated. So, I think you'll have an entire fan base that looks at these fighters in their prime and thinks, you know, there might be a chance to do something against an out-of-prime Mayweather [in boxing]."
Furthermore, Malignaggi stated that Pacquiao vs Mayweather 2 will not sell like before as the "casual" boxing fans will be turned off. He claimed that a match with an MMA fighter is more likely to happen because MMA fans are "dumb."
"MMA fans are the dumbest fans in the world," Malignaggi added. "They'd eat those fights up. Every, single one of them would buy that pay-per-view. No doubt about it. When you're the dumbest fans in the world, you take any little positive you can get out of it."
ADVERTISEMENT
Article continues below this ad
"So, for them, they look at CompuBox numbers or whatever stats they can come up with to say, 'Well, [McGregor] did good. Maybe he'll do better next time. Maybe he'll beat him,' whatever they need to hold on to. I believe the fight sells. Because you're selling to a fan base that's too dumb to understand the uselessness of the fight."