VIDEO: 4 Times Mike Tyson Cried On-Camera and Revealed His Emotional Side
Published 10/05/2021, 11:00 AM EDT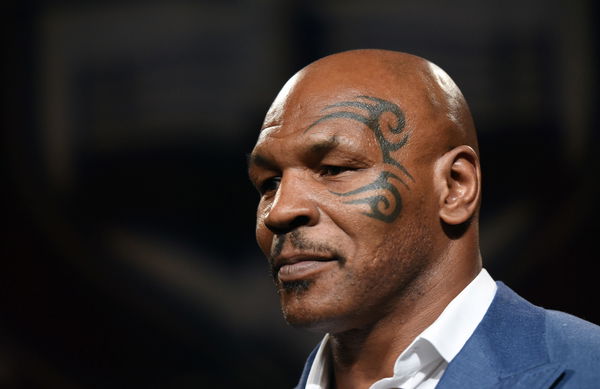 ---
---
Mike Tyson is a man known for his viciousness in the combat world. The youngest boxer, to claim the world heavyweight title, stopped most of his opponents in horrific fashion, putting himself on the list of the all-time legendary pugilists.
ADVERTISEMENT
Article continues below this ad
However, Tyson saw several dark days in his life that broke him to some extent. Even then, he always had the courage to rise back.
Aged 55, Mike Tyson appears a successful entrepreneur, a Hall-of-Fame boxer, who runs a successful podcast in 'HotBoxin'. All of these features call for a happy life. However, Tyson may have a bit too many scratchy memories to overcome.
ADVERTISEMENT
Article continues below this ad
While not all of them haunt him, some of those memories clearly make Tyson teary-eyed. And while 'Iron' has cherished several moments of glory and trash-talks in his life. Here are some moments where 'The Baddest Man On The Planet' cried.
Mike Tyson with Sugar Ray Leonard
Two of the greatest, Tyson and Leonard, connected in the first season of the 'HotBoxin' podcast. They revealed several insights from old age and went too deep in their conversation. Meanwhile, Tyson stressed the fact of how he has changed from what he used to be.
Tyson claimed to feel bad at times for not being the treacherous persona anymore. Leonard silently listened. And Tyson described his emotions with teary eyes.
However, the re-union of Tyson and Ray Leonard, along with Thomas Hearns, was different and entertaining in season 2 of the podcast. It was emotional yet cherishable money.
The Shocking loss of Iron's daughter
In 2019, Tyson lost his 11-year-old daughter Exodus in a tragic accident. The little girl was at the treadmill of their home and, unfortunately, hung herself in the chords of the machine. Although she was taken to Phoenix hospital, Exodus lost her life. This shattered the heavyweight legend.
The heavyweight star almost broke down every time, while recalling the incident. In several interviews, Tyson cried and couldn't continue speaking about it. It's one such incident that may continue to haunt the champion till his last breath. However, Tyson has always returned stronger from several setbacks in his life and one can hope and pray he does that again.
Mike Tyson and Cus D'Amato
Every great boxer comes from a great coach. And for Mike Tyson, Cus D'Amato was that person. Although 'Iron' has trained with every elite trainer, none has ever impacted him like Cus D'Amato. Therefore, in almost every interview where he has talked about the late Cus D'Amato, Tyson shed tears.
He revealed how the legendary trainer infused him with the confidence of becoming a world champion. Even before Tyson, D'Amato knew 'Iron' Mike Tyson will be a world champion someday. No wonder Tyson is still the youngest man to have done it.
Tyson and Ali – Two of the Greatest
Tyson has always idolized 'The Greatest' Muhammad Ali in his career. He was fortunate to interact with Ali on several occasions, even in the last years of the 'Greatest'.
ADVERTISEMENT
Article continues below this ad
The bond was far beyond the boundaries of boxing, as Tyson always looked up to Ali, even in real life. Hence, he got emotional quite a few times while talking about Ali to the media.
In a chat with Michael Rapaport, 'Iron' Mike cried while recalling Muhammad Ali. He labeled Ali as a 'giant' amongst men. Rapport almost remained silenced while Tyson delivered his raw emotions. The particular video has grabbed 3.2 million views so far.
ADVERTISEMENT
Article continues below this ad
While Tyson will be remembered for his great KOs and achievements, these minor moments will reflect his emotional side. A portion that the heavyweight stalwart doesn't show.
Watch This Story: Five Insane Facts About Mike Tyson