VIDEO: An Annoyed Dog Gives Hilarious Reaction After Listening to Jake Paul's Vocal Training
Published 04/15/2021, 1:00 PM EDT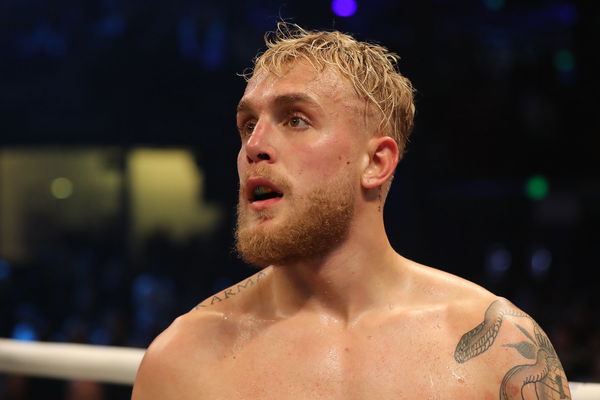 ---
---
Jake Paul has donned several caps in his life to earn the massive number of followers he has on social media. Before becoming a familiar face in the combat world, he was a reputed YouTuber, famously known for his vines and music videos. However, he was never free from the clutch of criticisms.
ADVERTISEMENT
Article continues below this ad
Paul, 2-0 as a professional boxer, is not new to hatred and several netizens had expressed their dislike towards 'The Problem Child', even when he was reigning over the Internet community. The list of those who dislike Paul may include a canine who appeared to be vexed after hearing Paul's vocal testing.
Erica Tannen, a reputed vocal artist, trained Paul for his musical venture and fans were fortunate to catch a glimpse. She agreed to the clip and hailed 'The Problem Child' for his effort to learn. While she was honing Paul, the pet dog delivered a hilarious reaction.
ADVERTISEMENT
Article continues below this ad
As 'The Problem Child' sang, the pooch appeared to guard its ears with its paws, and it appeared disturbed. Paul didn't fail to notice that and said, "He doesn't want to hear it." (laughs).
Jake Paul and his GRAMMY target
'The Problem Child' has aimed at attaining a Grammy several times in his musical career. It is one of the most prestigious global musical awards and knowing him, he will dedicate ample time towards making this dream a reality. Meanwhile, the 24-year-old also expressed his disgust over the award four years back.
He turned to Twitter and wrote, "Grammys are rigged".
ADVERTISEMENT
Article continues below this ad
However, Paul has got more goals on sight at this stage. The millionaire YouTuber (2-0 as a boxer) has claimed that he will focus solely on his boxing career at this point. While a fight against former MMA world champion Ben Askren is set for April 17, 'The Problem Child' is on the brink of attaining global stardom in the combat community if he secures a win.
Do you see Paul opting to burst into a song if he wins any of his next boxing bouts?
ADVERTISEMENT
Article continues below this ad