VIDEO: Floyd Mayweather Remained Calm as a Monk When Mike Tyson Threw a Punch at Him
Published 02/15/2021, 2:00 PM EST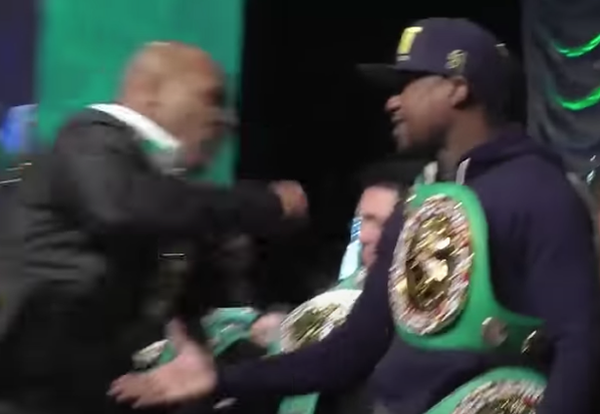 ---
---
Mike Tyson and Floyd Mayweather are two of the biggest superstars in the sport of boxing. Coming off from two different eras, they are regarded as the prime brand ambassadors of the sport. However, the two never shared a healthy relationship and has often belittled each other on public appearances.
ADVERTISEMENT
Article continues below this ad
The relationship became viler when Mike Tyson almost landed a punch on Floyd Mayweather in an event where several boxing pundits were present. Surprisingly, Mayweather didn't even flinch and had a smirk on his face. 'Iron' Mike also consoled himself and walked off without creating further drama. But it was an intense encounter which garnered attention from every corner of the world.
World Boxing Council applauded all the veterans and organized an event to hail them with their specific titles. WBC President Mauricio Sulaiman was also there with Roberto Duran, Sugar Ray Leonard, Oscar De La Hoya and many more legends joining the ride.
ADVERTISEMENT
Article continues below this ad
Meanwhile, Tyson got to the stage and walked towards Mayweather before addressing the jab. On coming closer, he had a clear grudge on his face as Tyson threw the shot. But Mayweather was calm as if he saw it coming. In the aftermath, both of them hugged each other and shared a suitable moment.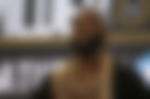 Mike Tyson and Floyd Mayweather- A Cold rivalry
Mayweather and Tyson have expressed disgust over each other on several other occasions. Once Mayweather had billed himself to  be greater than Muhammad Ali. In response, Mike Tyson called him "delusional" and ridiculed the unbeaten champion.
A few days back, Tyson also denied accepting Mayweather as the G.O.A.T. In his podcast, the heavyweight legend contrasted Mayweather's unbeaten record with other legendary resumes before making his statement.
"Don't tell me about you're the greatest fighter with 50-0. He's a great fighter, no doubt about it, But 50-0? Chavez had 90 (fights unbeaten). He was fighting like eight times a year against whoever fought him, against whoever was in the rankings," said Tyson.
ADVERTISEMENT
Article continues below this ad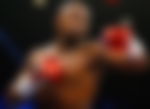 Coincidentally both of them have also agreed on certain notions. While most of the boxers have ridiculed exhibition fights in recent times, Floyd Mayweather and Mike Tyson favors them. Tyson has staged his return in an exhibition against Roy Jones Jr. on November 28. And Youtuber Jake Paul participated in the undercard. Now, Floyd Mayweather will return to the ring in another exhibition against Jake Paul's brother Logan Paul.
So, it's not all differences between the professional world champions.
ADVERTISEMENT
Article continues below this ad