VIDEO: Floyd Mayweather's Father Teaches the Secret of Shoulder Roll Technique
Published 12/20/2021, 9:00 AM EST

Follow Us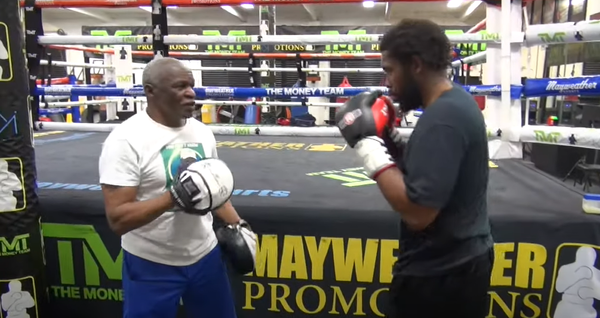 Floyd Mayweather mastered the art of shoulder roll from his father and uncle, which helped him become one of the most defensive boxers of all time. Mayweather was uncrackable at his prime and the undefeated star used his shoulder roll strategy throughout his career to continue beating world champion opponents. Several boxers have tried to sample it in their game plan, but none could ever do it like 'TBE' Mayweather.
Although Floyd Mayweather Jr honed it to perfection, his father Mayweather Sr. implemented it in his game plan several years back. He also used it against Sugar Ray Leonard back in 1978 but fell prey to 'Sugar Show' and lost via stoppage. Shoulder roll has been a blueprint of success for several boxers.
ADVERTISEMENT
Article continues below this ad
69-year-old Floyd Mayweather Sr. is still a master of it and helped a guest at his gym decode the technique. Mayweather Sr. showed how to put into the display and use chin, shoulder, hands, all in a rhythm to create a defensive shield.
Besides Mayweather, several men have tried to implement the plan. However, Mayweather believes it's his act, and he is the best at it. In a previous interview, Floyd Mayweather Jr. revealed learning the technique from his father. But he has credited himself solely for replicating it brilliantly.
"My dad taught me the shoulder roll, but the thing is I don't care. I'm not talking about my dad. I don't care who done it first. It's mine because I mastered it," said Floyd Mayweather.
The shoulder roll is undoubtedly one of the brilliant tactics of boxing as Sugar Ray Leonard admitted of facing difficulties against Mayweather Sr. That said, the move has its own benefits and problems.
Floyd Mayweather and his shoulder roll move are difficult to deal with
ADVERTISEMENT
Article continues below this ad
The shoulder roll technique is used to save energy. It is based on the upper body movement and it works even if a boxer is not moving. It deflects the opponent's shot and also allows the user to shift position rapidly. Furthermore, it also helps in counter-punching.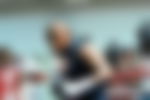 Mayweather's shoulder roll has helped him counter several of his opponents. As the stance allows you to switch from defense to offense, it's hard for an opponent to decode it.
ADVERTISEMENT
Article continues below this ad
Watch This Story: Top 5 Best Selling PPV Fights of Floyd Mayweather's Boxing Career
Bernard Hopkins and Tony Tucker also sampled it in their careers, but Mayweather Jr. honed him to perfection and could bless himself with an undefeated 50-0 professional career.