Video: Maxi Hughes Pulls Off Floyd Mayweather's Infamous Move on His Opponent
Published 03/20/2021, 7:00 PM EDT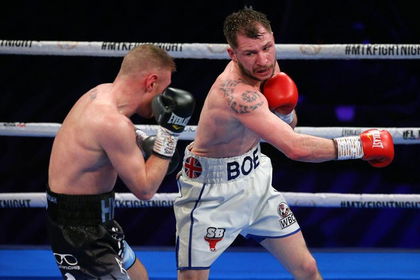 ---
---
British lightweight, Maxi Hughes, channeled his inner Floyd Mayweather on his way to winning the British lightweight title against Paul Hyland Jr. The 31-year-old won the fight with a controversial knockout very similar to Mayweather's against Victor Ortiz.
ADVERTISEMENT
Article continues below this ad
Hughes and Hyland Jr. fought as the co-main event on an MTK Global card. The fight went on to the eighth round, where the Yorkshireman KOed his compatriot. Despite the victory, the nature of the finish has grabbed all the attention.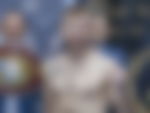 ADVERTISEMENT
Article continues below this ad
At the half-way mark of the eighth round of the bout, Hughes threw a fantastic combination to the body that hurt Hyland Jr. As a result, it appeared the referee sent 'Maximus' to his corner and would award the knockdown.
Hyland Jr. had turned his back and clenched his stomach in pain while trying to recover from the vicious body shot. However, the referee did not give him a standing count and instead continued the fight. Therefore, Hughes walked down Hyland Jr. and landed a powerful right hand. In retrospect, that was the fight-ending blow. 
This was similar to what happened between Mayweather and Ortiz in 2011. Ortiz head-butted 'TBE', and after the referee brought them to touch gloves, Mayweather knocked him out while Ortiz was still touching gloves.
READ: Canelo Alvarez: How Many Divisions Has the P4P King Conquered?

What makes the Maxi Hughes vs. Paul Hyland Jr. fight different from Floyd Mayweather's?
Although there were obvious similarities between the two knockouts, there are several aspects that make Hughes' victory different from Floyd Mayweather's knockout.
First, in Hughes' case, the referee seemed unsure of his decision, and that caused the confusion. Moreover, the break came because of a body shot from 'Maximus,' rather than an illegal act like in Mayweather's bout.
ADVERTISEMENT
Article continues below this ad
In addition, the Mayweather-Ortiz bout had a proper break with the referee deducting a point. Therefore, Ortiz had time to recover and get a grip on the situation. However, Hyland Jr. expected the referee to give him a standing count. And as a result, he did not know what was happening.
Thus, boxing fans may feel that Maxi Hughes was well within his rights to finish the fight in the way he did. However, it is unfortunate for Hyland Jr. to get knocked out in those circumstances.
What did you make of that knockout? Do you think the KO was unfair? Or do you think the fighters were right in both scenarios?
ADVERTISEMENT
Article continues below this ad