VIDEO: Two Internet Celebrities Tried Boxing Random Strangers and Regretted It Instantly
Published 01/02/2022, 9:00 AM EST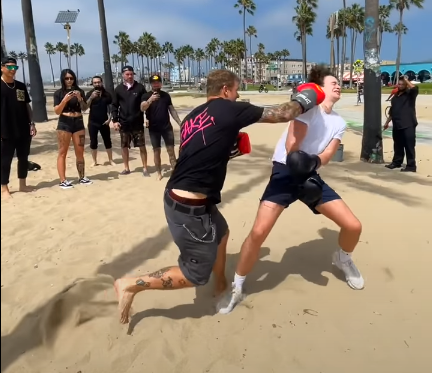 'The Cheeky Boyos' is a YouTube group comprising Coy Wickey and Brian O'Donnell. They specialize in short-form content such as TikTok, YouTube Shorts, and reels. The American group blew up on the video-sharing platform TikTok and then moved to Los Angeles to pursue a career as content creators.
The videos that shot them to fame comprised Wickey and O'Donnell, performing challenges set by their followers. They would make a reel on a comment that gave them a challenge, and they would complete the challenge. In one of their recent videos, a user named 'robertbigguy' asked them to challenge strangers to a boxing match.
ADVERTISEMENT
Article continues below this ad
The pair then set out to Venice beach and decided to complete their challenge. Brian O'Donnell was first up. They went up to a stranger and asked the man if he wanted to box. A very hesitant O'Donnell put on the gloves. The first exchange of the match was a right hook that landed plum on O'Donnell's face and knocked him off his feet.
The knockdown stunned the crowd and Wickey, who was recording. "To be honest, I was not expecting that," O'Donnell said. The stranger knocked O'Donnell off his feet again and kept connecting with the right hook.
 

View this post on Instagram

 
Next up was Coy Wickey. He took on another stranger, in a closely contested match with no significant damage from either side. In the end, the pair embraced and went their separate ways.
The video went viral on YouTube and has 2.3 million views at the time of writing this article.
Logan Paul punched The Cheeky Boyos in the face
ADVERTISEMENT
Article continues below this ad
Back in October last year, The Cheeky Boyos let Logan Paul punch them in the face for a TikTok. In yet another challenge, a user challenged The Cheeky Boyos to get punched by Logan Paul.
Watch This Story: 5 Boxing Matches That Must Happen in 2022
Wickey and O'Donnell met up with 'The Maverick' at his Encino mansion and asked him to be a part of the video.
ADVERTISEMENT
Article continues below this ad
Paul initially refused to punch O'Donnell in his face, but later agreed and was a part of the video. The result turned out to be quite hilarious.