Viktor Faust vs Mike Marshall: Stats: Age, Height, Weight, Net Worth
Published 10/09/2021, 9:07 AM EDT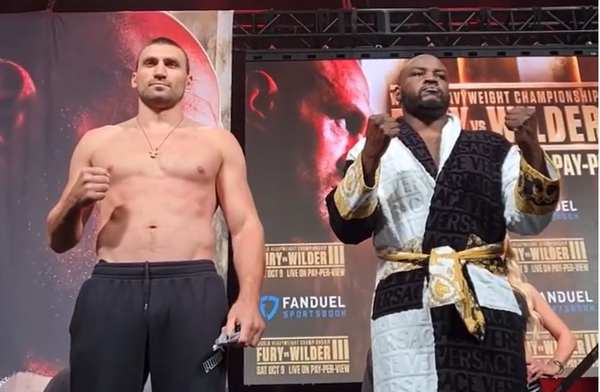 ---
---
Tyson Fury vs Deontay Wilder 3 will be an epic night of heavyweight thrillers. While most people are excited to see the main event, the undercard fighters are set to bring the heat much before the main event happens. Viktor Faust vs Mike Marshall is one such clash that has a lot of similarities with the intriguing headliner and promises to be an entertaining affair.
ADVERTISEMENT
Article continues below this ad
An undefeated Faust will face Mike Marshall, who has lost only once as a professional and doesn't intend to contract another loss at this point. Sounds quite similar to what Tyson Fury vs Deontay Wilder looks like on papers. Nevertheless, the fight is way different and has its own spark.
ADVERTISEMENT
Article continues below this ad
Ukrainian fighter Faust has had a stellar start to his pro career after 6 years of being an amateur. USA's Mike Marshall has also been on the surging side with a commendable pro career. Marshall and Faust will now clash in an intriguing fight.
Viktor Faust vs Mike Marshall: Record and Stats
7-0 as a professional, Faust has 5 KOs under his name. He has shown his ability in full-length fights while being able to stop his opponents in the mid-way. His 43-11 amateur career also shows 11 KOs. And all these numbers cite 29-year-old Viktor Faust as an elite beginner. Meanwhile, he has been super active since debuting in 2020.
After five wins in his debut year, Faust has already bagged two wins this year and is hours away from meeting Mike Marshall in the undercard of Fury vs Wilder 3. On contrary, Danbury native Marshal has had a different yet successful career till now.
Following an unsuccessful amateur career of 0-3, Marshall turned professional in 2015 and had become 4-1 by the end of 2016. But a defeat against Luther Smith took him out of action for four years. He returned in 2020 against Justin Rolfe and revived his win streak. As of now, Mike Marshall (33) is 6-1-1 with 4 KOs under his name.
Height, Reach, Physique and prediction
6'5" Viktor Faust has a reach of 81" which is massive before Marshall's 6'2" height and 78" reach. Faust can rely on his strong jabs and complement them with his physical advantages. Marshall shall have to try to brawl out and close the fight. It will be demanding, but to make a statement, that's what the American star needs to do.
Watch This Story: Top 5 Best Selling PPV Fights of Floyd Mayweather's Career
Viktor Faust's supreme activeness is another reason that backs him to win the fight. In response, Marshall has also been active lately. And being heavyweights, they can never write away each other's chances to win. All these factors reflect the upcoming clash to be an important one. But Faust's unbeaten status and physical frame favor him to vanquish Mike Marshall in the 8-rounds contest.
ADVERTISEMENT
Article continues below this ad
Viktor Faust and Mike Marshall- The Money game and Fame
Both men are yet to make it big on the main screen. However, being a part of Fury vs Wilder 3 night will actually introduce them to the major portion of the boxing fan bases. With 5021 followers on Instagram, Marshall isn't a common name among the mainstream audience. Viktor Faust's 3556 IG followers fall in the same bracket.
ADVERTISEMENT
Article continues below this ad
Meanwhile, no credible source has yet revealed their exact net worth. So, it reflects that the media or the fans haven't really bothered about the surging heavyweight stars as of now. However, that can change if either one grabs a high-light reel moment in the Fury vs Wilder 3 night.