Vitor Belfort Calls Out Jake Paul for $25 Million 'Winner Takes All' Fight
Published 09/11/2021, 11:08 PM EDT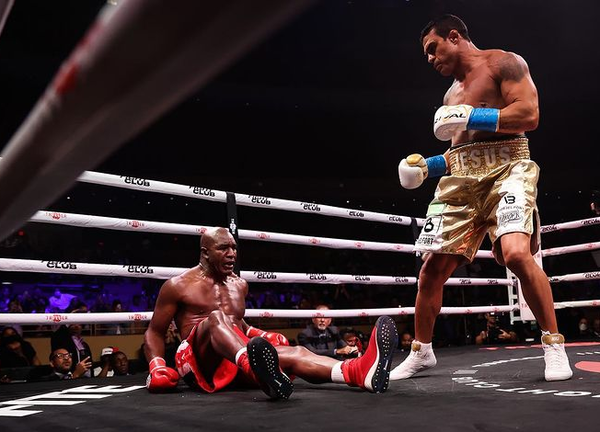 ---
---
Vitor Belfort finally showed fans what he is truly capable of inside the squared circle. He dominated his bout against boxing legend Evander Holyfield by dropping him in the very first round.
ADVERTISEMENT
Article continues below this ad
Even though his bout did not last very long, he definitely did not look like many other MMA fighters turned-boxers. His striking seemed in control, and it looked like Vitor Belfort knew what he was doing.
ADVERTISEMENT
Article continues below this ad
With his round 1 TKO win over Evander Holyfield, Vitor Belfort put pro-boxers on notice. In addition to that, he made a surprise announcement; he called out YouTuber-turned-boxer Jake Paul for a $25 million 'winner takes all' fight.
"Jake Paul, stop running from me, man. I'm gonna teach you a lesson. You can be my kid, you're going to meet daddy over here at Triller. Stop running, you little b***h," said Vitor Belfort in a post-fight interview.
Evander Holyfield vs Vitor Belfort – Fight Recap
As speculated, Evander Holyfield's age definitely factored into his round 1 TKO loss. Even in training videos, he looked slow and not as agile as he used to be. Many were concerned for his safety inside the ring as his 44-year-old opponent seemed levels above in training videos.
Right from the get-go, it seemed as if Vitor Belfort knew exactly what he had to do. He knew Evander Holyfield would not be able to keep up with his speed and strength for long.
'The Real Deal' tried to create and maintain distance to capitalize on his height and reach advantage. It was evident that he was trying to apply a 'stick and move' approach.
However, Belfort showed fluidity and agility in his movement and striking. This allowed him to fight from inside the pocket and land heavy jabs and follow-up shots on his opponent.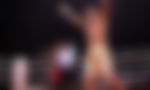 ADVERTISEMENT
Article continues below this ad
Before Holyfield could even create distance, 'The Phenom' lunged in and closed the distance. In this process, Belfort tagged the 58-year-old with a couple of heavy shots.
As Belfort lunged to land a straight left jab, Holyfield felt caught up in the pocket. To create more distance, he attempted to throw a right hook. Vitor Belfort backed up to avoid this hook and with the momentum in his hand, Holyfield swiveled back, slipped, and fell on the ropes.
Seconds later, Belfort dropped the boxing legend again. At this point, the fight became hard to watch as 'The Phenom' was overpowering and outclassing him on all fronts. With 15 seconds left in the first round, Vitor Belfort unloaded a barrage of jabs, crosses, hooks, and mean uppercuts on his opponent.
ADVERTISEMENT
Article continues below this ad
Seeing Holyfield get cornered and clearly overpowered, the referee felt he had seen enough and waved it off.