WATCH: Anthony Joshua Reveals the Toughest Fight of His Career 
Published 09/11/2021, 3:37 PM EDT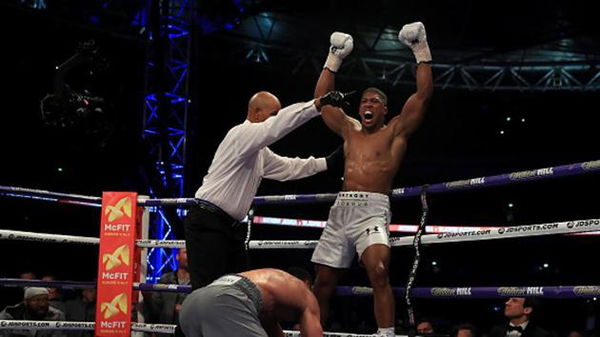 ---
---
In a recent interview with iFL TV, two-time unified heavyweight champion Anthony Joshua revealed the toughest fight of his career. He also talked about his upcoming heavyweight title defense against the undisputed cruiserweight champion Oleksandr Usyk.
ADVERTISEMENT
Article continues below this ad
With no doubt in his mind, Anthony Joshua revealed that he has not faced a tougher opponent than Wladimir Klitschko so far. He also believes that his next Ukrainian opponent will prove to be the second toughest challenge of his career on September 25.
ADVERTISEMENT
Article continues below this ad
"On paper, Wladimir Klitschko, in my opinion. Different styles, different stances, completely different styles but on paper, ten-year reign as a heavyweight champion, dominated the division, sixty-odd fights and went through generations.
"He's dominated for a long period of time, he's done well, so for me, Klitschko top tier fighter, then Usyk probably second yeah," said Anthony Joshua.
Anthony Joshua vs Wladimir Klitschko – Fight Recap
On April 30, 2017, the Ukrainian former heavyweight champion went toe-to-toe with Joshua. This was all new to the Englishman as he had not been tested that way before.
41-year-old Wladimir Klitschko did not back down at any moment in the fight. His ability to recuperate and get back up even after getting knocked down surprised and impressed his British opponent.
It showed that his extensive experience and indomitable spirit inside the ring had prepared him for the toughest 12 rounds of his career.
To date, Joshua-Klitschko is considered to be one of the best heavyweight clashes of all time.
Here's a deeper look into what made those 12 rounds stand apart  –
Wladimir Klitschko did not back down at any point
Both fighters started off strong. Joshua as well as Klitschko kicked it off by throwing one jab at a time.  It seemed as if both were trying to assess approaches. Those jabs gained some momentum as the seconds rolled by on the timer.
Wladimir Klitschko tried to create distance in between to land effective and heavy cross punches on his opponent. However, Joshua's agility allowed him to close the distance and land counterpunches in the first couple of rounds.
Irrespective of the actual round-by-round scores, both fighters seemed at par in the first four rounds. However, tides changed in the fifth round as Joshua dropped the Ukrainian titlist with a barrage of jabs, uppercuts, and hooks.
As he stepped back into the corner, he was surprised to see Wladimir Klitschko get back up after the knockdown. This was new to him because he had not seen an opponent react in this way before.
Klitschko got right back up and fought harder to make up for that knockdown. By the end of the fifth round, Joshua looked tired. In round 6, Klitschko dropped his opponent with a 1-1-2 combination.
This made the fight twice as interesting and levelled the playing field for both fighters. Joshua got back up, shook it off and fought back.
Anthony Joshua doubled down in the later rounds
In the subsequent rounds, Joshua showed some signs of tiredness but did not slow down. On the other hand, Klitschko did not seem tired but his opponent's constant movement and on-point striking disabled a lot of his attempts. Till round 10, both boxers doubled down on their jabs, combinations, and closing the distance.
Things changed in round 11. Wladimir Klitschko seemed slow and his opponent capitalized on this. During exchanges, the Ukrainian started to rely on clinching and blocking his shots from the inside.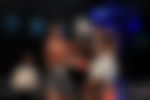 With 1 minute and 51 seconds left in round 11, Anthony Joshua increased his intensity and landed a sharp uppercut that flipped Klitschko's head.
Despite this mean uppercut, Klitschko did not drop or back down. But, the Englishman knew he had one-upped him. So, he doubled down on his left jab, uppercuts, body shots, and dropped his opponent twice. Anthony Joshua was then able to back Klitschko in to the corner where he hit him with a barrage of shots. Unable to defend himself any further, the referee had seen enough and immediately waved it off.
With this round 11 TKO win, the Englishman became a WBA, IBF, and IBO world heavyweight champion.
ADVERTISEMENT
Article continues below this ad
ADVERTISEMENT
Article continues below this ad