WATCH: Boxer Attacks Opponent With a Swift Left Hook After Medal Ceremony
Published 12/13/2021, 4:41 PM EST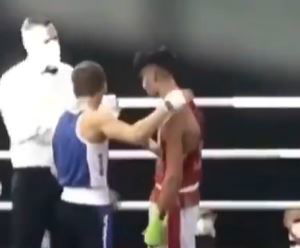 Knowing how to handle losses in combat sports is perhaps more important than just figuring out ways to win. One could even make the argument that losses are a crucial part of the game and the journey of a boxer or fighter to the top. However, in all forms of combat sports, there are always some who simply do not know how to accept losses and honor the spirit of sportsmanship.
And that is exactly what happened here. After losing to his opponent in an amateur boxing bout, both fighters engaged in a medal ceremony. The winner (in blue) first put on a medal over his opponent's neck and then the fighter in red did the same.
 

View this post on Instagram

 
ADVERTISEMENT
Article continues below this ad
However, after putting the medal over, the loser (in red) landed a swift left hook right on his opponent's face. The fighter in blue chose to not respond to the illegal strike and instead walked away to his corner.
Even though the boxer wearing blue walked away unfazed and uninjured, things could have gone south very easily.
A boxer was arrested for doing the exact same thing in 2001
In 2001, a former boxer, James Butler, pulled off something similar to what the boxer in red did to his opponent. After losing fair and square to Richard "The Alien" Grant in a 12-round charity bout, Butler took his gloves off and approached his opponent.
ADVERTISEMENT
Article continues below this ad
The two-decade-old video shows that he first pretended to inch-in closer to make peace with his opponent with a hug; however, as Grant leaned in for a friendly embrace to settle the rivalry, James Butler landed a straight left cross punch right on his opponent's jaw.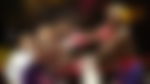 Unlike the fighter in blue who was able to walk away from such a strike uninjured, Richard Grant wasn't as lucky. Not only did James Butler's sucker punch first dislocate Grant's jaw, but he also had to be treated for a lacerated tongue with 26 stitches.
ADVERTISEMENT
Article continues below this ad
James Butler was later charged with aggravated assault for the same reason. The boxer was later formally convicted and ended up serving four months at a 'Rikers Island' detention facility.