WATCH: Boxer Julian Fernandez Tries a 'Rocky Move' – Gets Knocked Out of the Ring
Published 12/19/2020, 9:53 PM CST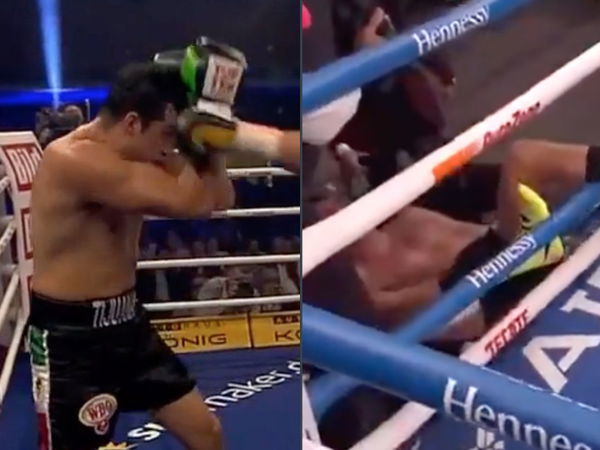 ---
---
Frank Sanchez and Julian Fernandez unleashed a jaw-dropping fight in the Canelo vs Smith undercard.  The heavyweight pugilists fought each other for seven rounds out of a possible 10 rounds.
ADVERTISEMENT
Article continues below this ad
However, the outcome might have disheartened the Mexican fans. Although Fernandez appeared entertaining and kept asking for the big shots, he couldn't handle it when Sanchez actually landed one a few rounds later.
It was vile to see, as Fernandez was thrown out of the ring with that one shot in round seven. He was concussed, and Sanchez grabbed the victory via KO.
ADVERTISEMENT
Article continues below this ad
However, it was going good till the seventh round. Although Sanchez had planted prominent shots by then, Fernandez was still on his feet and was responding in kind.
In round seven, things appeared a bit different. Despite being badly hit, Fernandez welcomed his Cuban adversary to throw punches. Moreover, he asked for those shots, and it was nothing less than a movie-like scenario. But, he couldn't deal with the heat offered from Sanchez's side.
The referee waved the contest off instantly after the final punch. Fernandez appeared dazed and took a while to get back to his feet. It was one of those fights that brought the dangers of boxing into the limelight once again.
It is no surprise why the great Sugar Ray Leonard once said, "You don't play boxing."
While it was a big night for Sanchez, he also garnered appraisals from several people. Here's some from the lot.
What's next for Frank Sanchez after beating Julian Fernandez?
28-year-old Frank Sanchez is still unbeaten in the looming heavyweight division. He is 17-0 with 13 KOs under his belt.
While he will relish his recent win against Fernández for the time, the division will demand more from the Cuban. There are several A-listers in the heavyweight unit who are vying for a higher rank. So, he will have to continue the dominance to cement his place among them.
ADVERTISEMENT
Article continues below this ad
He will look to advance towards the title race. A couple of more wins will bring him into the bigger picture and the onus will be on him to keep his winning run intact.
What did you make of Frank Sanchez's performance from tonight?
ADVERTISEMENT
Article continues below this ad