WATCH: British Boxers Alen Babic and Mark Bennett Get Into a Slap Fight During Face-Offs
Published 08/06/2021, 12:16 PM EDT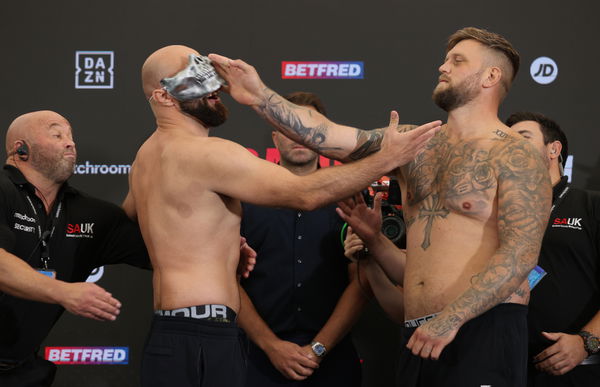 Kid Galahad and Jazza Dickens will headline the second edition of Eddie Hearn's Fight-Camp. The main event contenders will fight for the IBF Featherweight world title. On the undercard of the exciting main event,  heavyweights Alen Babic and Mark Bennett are also scheduled to fight tomorrow. Ahead of their clash tomorrow, Babic and Benett got into a heated slap-fight at the weigh-in show.
ADVERTISEMENT
Article continues below this ad
On the undercard of the Fight-Camp event, three undefeated heavyweights- Babic, Fabio Wardley, and Johnny Fisher are looking to extend their winning streak. 30-year-old Alen 'The Savage' Babic is undoubtedly the most entertaining of the lot. At the press conference, he said "f**k you" to all of his critics after a brief rant.
ADVERTISEMENT
Article continues below this ad
With this physical altercation at the weigh-in show, things have now become personal between Babic and Mark Bennett.
Alen Babic vows to punish Mark Bennett for slapping him
Alen Babic has seven straight wins on his record and remains undefeated. On the other hand, his opponent has seven wins and one loss. Compared to Mark Bennett, Babic is the more active fighter, as he has fought thrice in 2019, three more times through the COVID-19 period in 2020, and has already stopped Damian Chambers (11-1-0) by TKO in 2021. Mark Bennett is coming off a unanimous decision loss against Nick Webb in 2019.
Soon after the weigh-in physical altercation between both heavyweights, Alen Babic shared an Instagram post in which he promised to "punish" his English opponent for slapping him. He added his aim to be relentless and put a stop to Bennett. With this, there is now bad blood between the two fighters. This could turn into a brutal heavyweight clash.
"The amount of punishment this guy is gonna receive is gonna be astonishing. I will not stop until you stop moving. With that b****soft slap, you bought yourself ticket for intensive care," said Alen Babic in an Instagram post.
Mark Bennett plans on letting his fists do the talking
In the build-up to this heavyweight clash, Alen Babic has taken multiple digs at Mark Bennett by questioning his record, and saying that the former soldier is afraid. However, the Englishman shared he would let his fists do all the talking during their fight on August 7 at the Matchroom HQ back garden. Bennett made it clear from the weigh-in slap fight that he wants no part in any kind of trash talk.
Mark Bennett recently shared that his fighting style is similar to Alen Babic's. He feels that the fight will be a toe-to-toe contest. The English boxer thinks that the fight will come down to a "stand and trade" position in the center of the ring.
ADVERTISEMENT
Article continues below this ad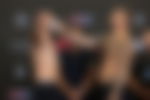 He said that he has no plans to back down from any challenge that comes his way during the fight. Mark Bennett also believes that the Croatian heavyweight has flaws in his game and aims to capitalize on those deficiencies on August 7.
"If you've watched any of my fights, I'm probably the same type of a fighter as Babic. We're probably just going to meet in the middle and stand and trade. I'm not going to take a backward step, and I say that with my hand on my heart. It will be a good fight. In his fights that I've seen, he has been tagged a few times. I think that he's got flaws," said Mark Bennett.
ADVERTISEMENT
Article continues below this ad
How do you see this fight playing out tomorrow at Eddie Hearn's Fight-Camp 2?