WATCH: Floyd Mayweather Tattoos His Signature On The Man Who Holds The World Record For Most Signatures Tattooed On His Back
Published 05/02/2022, 10:30 AM EDT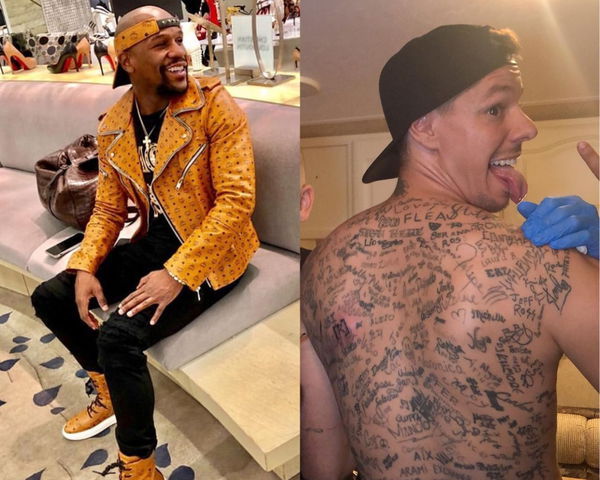 Former five-division world champion, Floyd Mayweather, has been a crowd favorite since his first tango in the ring. Meanwhile, Mayweather tattooed his signature on the back of social media influencer, Funky Matas.
ADVERTISEMENT
Article continues below this ad
Mayweather was in attendance at 'The Parlor Games Celebrity Basketball Classic' in Las Vegas. Moreover, the event is a part of Celebrity Sports Entertainment.
ADVERTISEMENT
Article continues below this ad
This was where Matas got Mayweather to ink his sign on his back.
 

View this post on Instagram

 
Notably, Matas is a tattoo artist, who holds the world record for the most signatures tattooed on his back. And, Mayweather is not the first celebrity to tattoo his signature on Matas' back.
He also holds signatures from Mike Tyson, Usain Bolt, Gerard Butler, Chris Rock and Will Smith, among others.
The fan favorite
Mayweather has had his array of haters. However, the loyalty of his fanbase has always been a highlight of Mayweather's career.
A video showed a fan almost passing out while meeting Mayweather. during his recent visit to Dubai. The fan even went down on his knees and told Mayweather about how much he respected him.
The Floyd Mayweather Logan Paul fiasco
Mayweather has been the high priest of jaw-dropping paychecks in boxing. However, it has been told that he has not yet paid Logan Paul for their exhibition match in June 2021.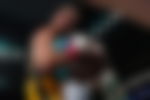 Paul was supposed to earn USD 14 million for the bout, an amount which has not been paid yet.
However, Mayweather's uncle and former IBO super featherweight champion, Jeff Mayweather, sided with Paul on the issue. He mentioned that he does not know about the payment situation, but Paul deserves to get paid.
Moreover, Paul mentioned that he would be suing Mayweather over the payment. He even went on to call the former champ a s***bag for not following up on his payments.
ADVERTISEMENT
Article continues below this ad
Paul's brother Jake Paul mentioned that he does not believe that Paul would receive his payment. He accused Mayweather of paying taxes, saying, "Floyd Mayweather is broke. That's what a lot of people don't realize. He gets these big cheques and doesn't pay taxes on them."
Further, he also added that Mayweather owes a lot of people and that Paul is a lot below in the list.
ADVERTISEMENT
Article continues below this ad
WATCH THIS STORY – Jake Paul, Nate Diaz, and others who Conor McGregor absolutely demolished on Twitter
What do you think of Matas' tattoos? Let us know in the comments below.