WATCH: Floyd Mayweather Thrills Followers with Insane Skipping Routine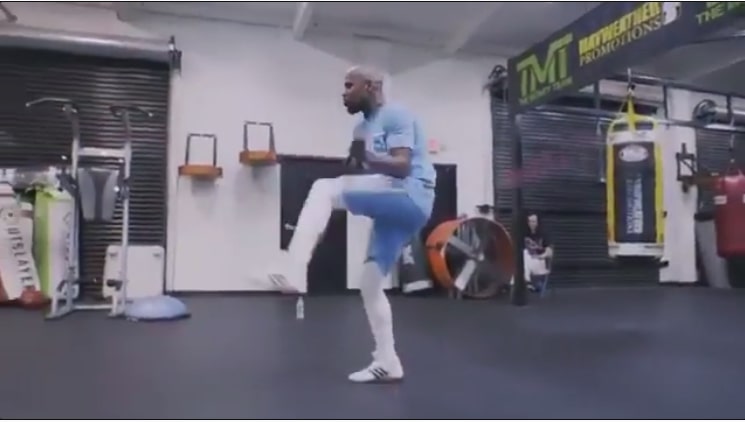 Floyd Mayweather remains one of the leanest and fittest boxers to set foot in the boxing ring. Despite having a defensive and non-explosive style, he has to last 12 rounds in the boxing ring against opponents who do their best to exploit any chink in his style.
Hence, he has to use his speed to avoid punches. Yet somehow, Mayweather never seems to gas out. Fans can attribute this to his insane physical conditioning, which is something he keeps at even three years after his last bout.
Read: "You Gotta Be Undefeated to Be Great" – Oscar Valdez Blames Floyd Mayweather
WBC's Instagram post shows 'Money' in his private gym, where he advises a person off-camera. Throughout the minute-long clip, the boxer swings a skipping rope, which can be heard whistling through the air as Mayweather thrills all with an insane skipping routine.  
He focuses on regular skipping and then alternates between an orthodox grip to a cross grip without stumbling. 'Money' takes a breather as he switches back to orthodox for a few seconds.
A few seconds later, he cranks up the intensity once again. Here, the rope is a blur with the boxer relying on hearing it hit the floor to time his leap. 
Is Floyd Mayweather training for a return to the squared circle?
Mayweather has often teased a return to the ring. At 43, he will have to put in way more effort, as he will always have a chip on his shoulder. Another reason is that he is getting older and his body will have slowed down ever so slightly. 
But anyone watching the clip may disagree as he looks as sharp as ever. However, seeing him work on enhancing his stamina rather than the usual bag and speed bag punching can be a sign that a return is imminent.
This is because, no matter how good the punches are, if a fighter gets gassed out towards the end, it could be lights out. And 'Money' will not want his hands drooping towards the latter rounds of a fight. 
Read: "Contract is More Important"- Khabib Nurmagomedov Opens Up on Floyd Mayweather Super-Fight
Even if a return isn't on the cards, fans will love to see the workout and consider skipping themselves as it can be done in isolation. However, reaching the insane speeds that Mayweather did would be a bridge too far. What did you make of the minute-long video?