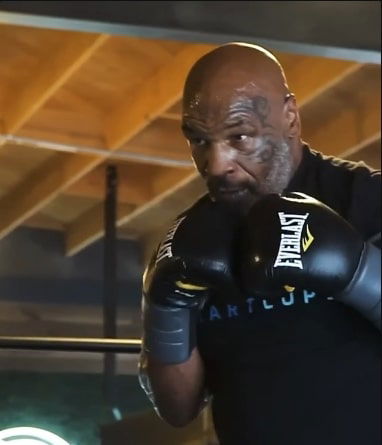 Mike Tyson is looking ever so serious about his return to what he says will be exhibition bouts. However, based on the intensity he is displaying in training videos fans could be forgiven for assuming 'The Baddest Man on the Planet' is gearing up for a professional return. The former 2x Heavyweight Champion shared a montage akin to a promo and left followers stunned by his fearsome sparring. 
Mike Tyson shares intense training video
The 50-6 boxer took to Instagram and shared a video captioned, "Training smarter every day." Here 'Iron' who is just days shy of his 54th birthday acknowledges his advanced years. In this regard, he admits that he needs to pace himself out well. 
In the clip, we see a cornerman strap on 'Iron's gloves following which he delivers vicious punches to a mitt holder. Despite the torso padding and the mitts, it can be safely said that blocking Tyson's punches aren't for everyone. 
"I Thought I was Going to Die Over There" – Mike Tyson's Coach Spills the Beans on Scary Sparring Session
Tyson seems to have picked up speed from his first training video where his coach said he saw his life flash before his eyes as the glove approached his face. The naysayers who are urging Tyson to not get back into the squared circle haven't deterred him one bit. 
In recent weeks, Mike Tyson has weighed in on the UFC fighter pay debate. Here, he said even if the biggest names clash in the cage they will not make as much as boxers. 'Iron' even laid down a challenge to UFC Light Heavyweight Champion Jon Jones. The top-ranked pound for pound fighter responded by saying he's "listening."
'Bones' challenged 'Iron' to a match in the Octagon and responded to the fearsome video expressing stunned disbelief.

As fans await the announcement of who Mike Tyson will fight, the training videos can serve as evidence. That Iron is leaving no stone unturned ahead of his grand return.
Who do you see Mike Tyson facing?