Watch: Nathan 'Hitman' Heaney Walk Out to Rousing Stoke City Anthem
Published 03/14/2020, 3:03 PM EDT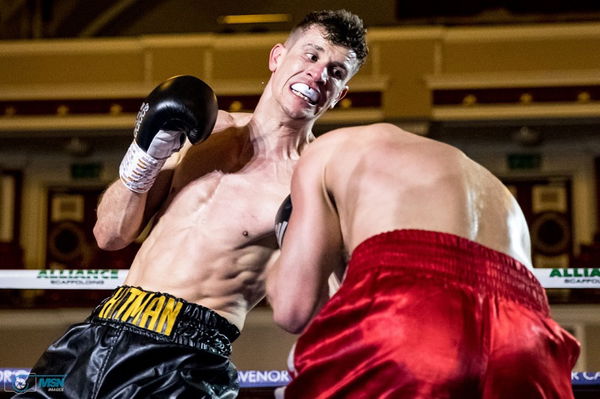 ---
---
Nathan Heaney enters the King's hall with a raucous dress circle welcoming him with 'Delilah' song.
ADVERTISEMENT
Article continues below this ad
A flamboyant walk out as the 'Hitman' goes on his way to beat opponent Christian Schembri by unanimous decision.
It couldn't get any better for Heaney with a packed crowd behind him as he claims the vacant International Boxing Organisation Continental Super Middle title.
ADVERTISEMENT
Article continues below this ad
The venue reminds of a familiar feeling when English cricketer Ben Stokes celebrated with his bat on air as the whole crowd went up with him in full voice.
Nathan Heaney too gets welcomed by the crowd with equal passion and Stoke City anthem to welcome him.
Unfortunately, Heaney had lost his father eight weeks before the title fight.
And it was only after he won the title that he allowed himself to think about his father alone in the dressing room.
"I didn't think about my dad once. I was that focused on my opponent it didn't enter my mind," a proud Stoke fan Heaney says this to Stokesentinel.
"It was a close fight, but when it was over, the place went wild. It was very emotional and all my dad's friends were there."
"My dad died eight weeks ago before the title fight. "
"The day after he died, I went to Millwall to watch Stoke. I still wanted to go and it was what I needed," Heaney added.
Since that title fight win, videos of his entrance have gone viral on social media.
And has subsequently created a storm within the boxing community.
A twitter user called Ste2Armes replies: "Promoters Dream him."
Another tweet by KieranMurphyy94 read: "What a walkout mate some atmosphere for a small pace."
The Trentham-based middleweight boxer initially wanted to be a professional footballer for Stoke but later decided upon boxing.
His amateur career records 58 wins in 90 fights before turning into a teacher.
ADVERTISEMENT
Article continues below this ad
He later returned to boxing as professional at the age of 27 and secured 10 successive wins, including two by knockouts.
Fellow Britons are now talking up the trash with each mocking their career record.
Joshua says that Fury has had only two good fights in his career against Wilder and Klitschko and so  'he's on a high right now.'
ADVERTISEMENT
Article continues below this ad
Fury earlier mocked Joshua's heavyweight credentials saying he is only holding on to his belts and has picked up his leftovers.