WATCH: 'The Baddest Man on the Planet' Mike Tyson Knocks Out a Great White Shark
Published 05/14/2022, 9:46 AM EDT

Follow Us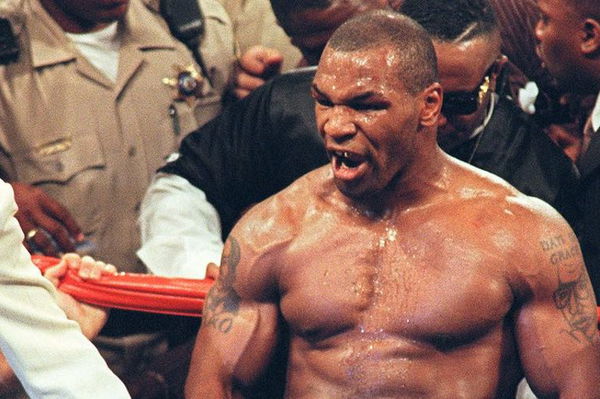 A regular human would not dare to step in the ring with former world heavyweight champion Mike Tyson. Meanwhile, Tyson will willingly step into the ring against the best out of the best. Moreover, 'The Baddest Man on the Planet' has often fantasized about fighting the Apex predators of the world, such as the Silverback gorilla, which did not come to fruition. However, there is another Apex predator whom 'Iron Mike' was able to face.
The Apex predator talked about here is a great white shark. Mike Tyson once put a great white shark to sleep in an epic face-off.
ADVERTISEMENT
Article continues below this ad
Tyson faced a great white shark underground to kick off Discovery channel's 'Shark Week'. Shark Week is a yearly week-long series revolving around shark behaviors and conservation.
This challenge took place prior to Tyson's highly anticipated exhibition bout against Roy Jones Jr.
Tyson went underwater with a shark expert in the Bahamas, where he was pitted against the great white shark in a three-round format. And here he was challenged to achieve tonic immobility on a great white shark.
Tonic immobility is a technique that is used by researchers to maintain a safe space while working with sharks.
 

View this post on Instagram

 
Moreover, to achieve tonic immobility, Tyson had to successfully grab the shark's snout. In fact, this would stimulate the sensory pores on the shark's nose, thereby temporarily making it immobile.
And, 'Iron' Mike, without a doubt, was successful in putting the shark to 'sleep'. Talking about his tango with a great white, he said, "I took on this challenger to overcome fears I still deal with in life."
'The Baddest Man on the Planet' proved that he is not only intimidating on land but also underwater.
When Mike Tyson almost fought a gorilla
It comes as no surprise that a prime Tyson was bored with 'beating' mere mortal humans. In fact, 'Iron' Mike once almost got into a brawl with a silverback gorilla.
 

View this post on Instagram

 
ADVERTISEMENT
Article continues below this ad
The champ was on a trip to the New York zoo. This was where he saw a big silverback gorilla bullying all the other gorillas.
And this did not sit well with Tyson. He even tried to offer money to the zookeeper to allow him to go and punch the silverback. Talking about the potential brawl with the ape, Tyson said, "I offered the attendant $10,000 to open the cage and let smash that silverback's snot box. He declined."
However, it is safe to assume that 'Iron' Mike would have been quite a handful for the silverback.
ADVERTISEMENT
Article continues below this ad
WATCH THIS STORY – Five Infamous Altercations Of Mike Tyson Outside The Ring
What do you think about Tyson's encounter with a great white shark? Let us know in the comments below.