WATCH: TikToker Corey B Slaps Former World Champion Paulie Malignaggi
Published 06/14/2021, 3:30 AM EDT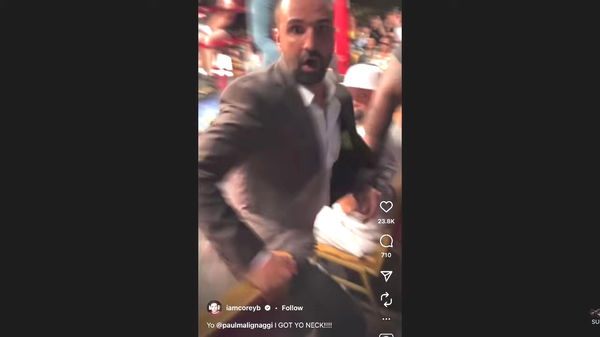 ---
---
The involvement of social media sensations in boxing is the trend right now. While Jake Paul and Logan Paul are getting into the ring to face other professionals, TikTokers and YouTubers are fighting each other. However, famous TikTok star Corey B has made headlines for a different reason.
ADVERTISEMENT
Article continues below this ad
Instead of getting into the ring to settle things or earn a big payday, the American TikToker chose a different way to catch the attention of the sport. He went viral over the weekend when he slapped former two-time world champion Paulie Malignaggi at the unique boxing event between Lamar Odom and Aaron Carter.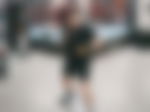 ADVERTISEMENT
Article continues below this ad
The internet sensation who has over 6.8 million followers on TikTok posted the video to his social media. In the video, we see Corey B approach Malignaggi with his hand covered in what looks like chalk powder. Malignaggi was live on the broadcasting team when Corey B slapped the back of his head and yelled the famous, "How's your cut, G?"
READ MORE: Mike Tyson Says Boxing Needs Jake Paul, but Does It?
Malignaggi then chased after Corey B while security held him back. However, this was enough to make the video go viral.
Corey B explains why he slapped Paulie Malignaggi
Boxing fans who do not know Corey B will wonder why he is beefing with a former two-time world champion. However, as surprising as it may be, the two have had verbal battles for weeks now. And after the video went viral, Corey B spoke to Boxing Insider and explained everything. He even said he would fight Malignaggi.
The American said, "So the reason for the beef in the first place was I've been boxing to stay in shape. With all of this YouTuber boxing stuff happening, I said let me get involved. So I been training for a little while now and I was talking on the radio saying I'm excited about training and whatnot."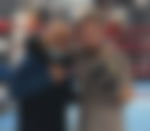 ADVERTISEMENT
Article continues below this ad
Corey B then added, "Then all of a sudden I get a call from Paulie. He says he's tired of us YouTubers and Tik Tokers trying to fight. He said how I'm a bum and bad for the sport and this and that. Then we went back and forth from there. What he said was, if he ever met me in person, I wouldn't be man enough to see him face to face."
Thus, this showed that Corey B did it to prove a point to the boxer. The internet star then confirmed that it was premeditated, but he would still like to face him on October 10, a date for which he has already signed a contract. There is no doubt it will be a fiery affair if the fight happens.
What do you make of this beef between Paulie Malignaggi and Corey B? Do you think it would make a good fight?
ADVERTISEMENT
Article continues below this ad
WATCH THIS STORY: 5 Crazy Details You Missed From Floyd Mayweather vs. Logan Paul
Trending Stories