WATCH: When Floyd Mayweather Screamed in Agony As Marcos Maidana Bit His Hand During Their Iconic Fight
Published 05/22/2021, 12:00 PM EDT

Follow Us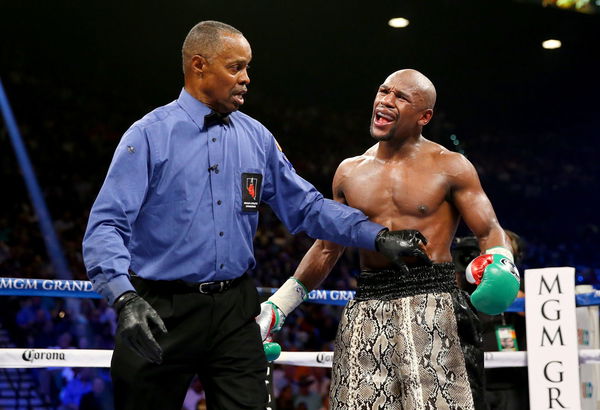 Floyd Mayweather has had several heated rivalries in his career, and Marcos Maidana was clearly one of them. Going back and forth with each other in two consecutive collisions, the pair had irked severe controversy in the mix. However, Mayweather was fortunate to walk away with the win on both occasions.
Nevertheless, Maidana gave him a tough time and revealed a set of loopholes in Mayweather's game. It was a close collision and both the contests were entertaining. But the rematch in September 2014 saw a bizarre moment when Mayweather accused his rival of biting.
ADVERTISEMENT
Article continues below this ad
Almost seven years down the line, the incident continues to garner attention. Although none of the contenders are active now, they seem to have evoked a moment that will be a matter of debate throughout.
Floyd Mayweather vs Marcos Maidana 2
Akin to the original bout, the rematch appeared pretty similar as both men dragged each other to the decision. However, Mayweather apparently cracked his Argentine rival. He appeared the aggressor and kept putting jabs on Marcos Maidana, which turned out to be a crucial factor in the fight.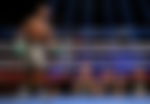 Meanwhile, it seemed to be frustrating for Maidana, who had a hard time decoding Mayweather's defense. Starting from shoulder rolls to the head movements, Floyd Mayweather successfully ducked Marcos Maidana's best shots, and it was a tactical display of boxing.
ADVERTISEMENT
Article continues below this ad
However, in round eight Mayweather screamed in pain and blamed Maidans for biting his arm. The pair were involved in a headlock and Mayweather was trying to create the gap. That's when the unbeaten boxer began screaming and it was shocking to watch.
The referee intervened, and Floyd Mayweather clearly threw dirt on Maidana's name for trying cheap antics inside the ring. It turned out to be costly, but both men continued fighting. Ultimately, Mayweather continued the dominance till the final bell and claimed the win by 115-112. 116-111, and 116-111 in his favor.
ADVERTISEMENT
Article continues below this ad
Following back-to-back losses against Mayweather, 'El Chino' Maidana hung his gloves with a professional record of 35-5. Despite not being able to vanquish Mayweather, Maidana has made his place in the top-tier and is a legitimate elite of the sport.