WATCH: When Vitor Belfort Permanently Damaged Michael Bisping's Eye With Vicious Headkick
Published 09/07/2021, 11:00 AM EDT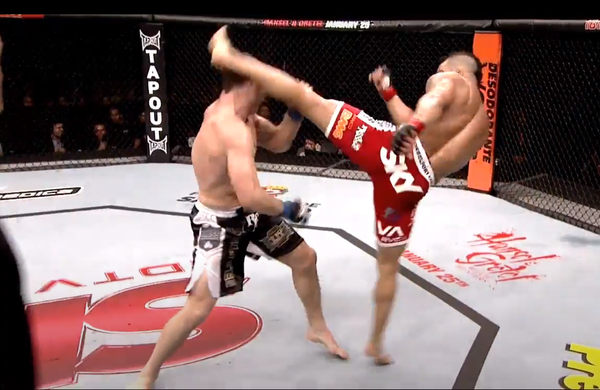 ---
---
Michael Bisping is enjoying retired life at the UFC right now. The British fighter now sits ringside and commentates on UFC fights and conducts post-fight interviews.
ADVERTISEMENT
Article continues below this ad
The UFC inducted Bisping into the Hall of Fame in 2019, being the only British UFC champion to date. The Hall of Famer has achieved everything he could inside the cage. However, at the time, no one knew that he achieved this hall of fame career essentially fighting with one eye.
ADVERTISEMENT
Article continues below this ad
Michael 'The Count' Bisping lost his eye during his TKO loss to Vitor Belfort on January 20, 2013, in Brazil. To this day, Michael Bisping does not hide his feelings for Vitor 'The Phenom' Belfort. "I don't like Vitor Belfort," Bisping said. "The eye thing, that's not why I don't like him."
"I dislike him because he's a bit of a tool. He preaches to everybody about Jesus and being a good person, but he's a scumbag. He was out there cheating, taking a lot of steroids and fighting unfairly, and injuring people. He should be ashamed of himself."
It honestly seems more eye pokes happen in the UFC than any other MMA promotion

Something needs to change before someone actually loses an eye and they end up like Michael Bisping #UFCVegas30 pic.twitter.com/kxkZqvEhWZ

— All Out Esteban (@SteveK_MMA) June 26, 2021
"But Vitor Belfort doesn't enter my mind space unless somebody asks me about him. I certainly don't sit there obsessing about him. I just think, for want of a better word, he's a bit of a tool."
Following the injury, it was no secret that he had a bad eye. However, only Bisping's wife knew the extent of his injury. Astonishingly, 'The Count' won a UFC belt with just one eye.
ADVERTISEMENT
Article continues below this ad
Michael Bisping regrets fighting Kelvin Gastelum
Michael Bisping's last fight in the UFC saw him take on Kelvin Gastelum on short notice. Gastelum was set to fight Anderson 'The Spider' Silva. However, as Silva failed a drug test, the UFC needed someone to take his place. Bisping took the opportunity because he knew he was nearing the end of his career and he thought of doing the UFC a favor by taking the fight.
ADVERTISEMENT
Article continues below this ad
Bisping regrets taking the fight, which caused complications in his good eye. His right eye had no vision. However, after his fight against Gastelum, he had problems in his good eye, which led him to retire from the UFC.