WATCH: YouTube Boxer Left With Detached Retina As He Gets Attacked By Celebrity Opponent Following A Heated Press Conference
Published 06/21/2022, 6:30 AM EDT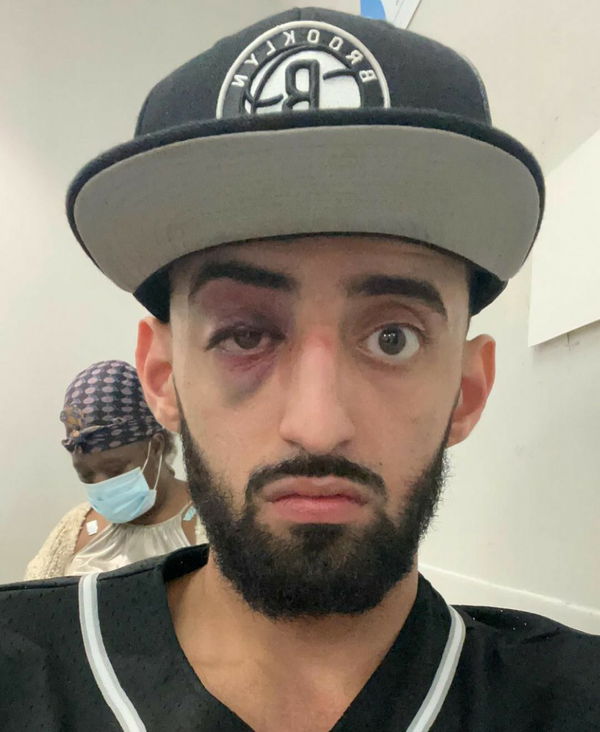 YouTubers Slim Albaher and Ryan Taylor were scheduled for a boxing bout on July 16. The two were going to fight on the undercard of Ed Matthews vs. Simple Simon. Unfortunately, something unusual happened that made Albaher pull out of the boxing match.
ADVERTISEMENT
Article continues below this ad
Apparently, Slim Albaher was brutally injured by his opponent after the pre-fight press conference. The YouTuber took to his YouTube channel to describe what happened. He said, "I started walking away and Ryan Taylor being the cheap shot scumbag starts following me and screaming in my face 'Look me in the eyes when I'm talking to you' and I'm fully ignoring him. And then Ryan Taylor gets so close to my face and I still didn't give him no eye contact or anything and he literally just shoves me."
ADVERTISEMENT
Article continues below this ad
Albaher further mentioned that he was shoved hard out of nowhere, and he didn't expect it to the point where he fell to the ground. The YouTuber, Adam Saleh, who tried to stop the altercation accompanied him. But, when he stepped in, he got choked by professional Bellator MMA fighter, Kane Mousah, who was with Taylor. 
Albaher suffered a detached retina as a result of this occurrence. The bout had already been postponed, but according to 'GIVEMESPORT,' the fight has now been completely withdrawn from the show due to the altercation between the fighters.
The rivalry between Slim Albaher and Ryan Taylor
Slim Albaher is an American YouTube celebrity, who has been into 3 fights till now, winning all of them. The YouTuber has around 617k subscribers on his YouTube channel. On the other hand, Taylor has had 18 bouts till now and has a record of (11-6-1). 
ADVERTISEMENT
Article continues below this ad
The two opponents used to be friends, but their friendship has now devolved into a bitter rivalry. Taylor had previously fought YouTuber DK Money at the Wembley Arena, but the battle was cut short due to an unforeseen circumstance.
Surprisingly, Taylor landed a hard headbutt on DK Money, knocking him out. The match was immediately called off as a result of this. There were also combat athletes like Anthony Joshua and Derek Chisora in attendance.
ADVERTISEMENT
Article continues below this ad
WATCH THIS STORY: Top 5 Worst Eye Injuries In The History Of Boxing
What are your opinions on the altercation between Albaher and Taylor? Let us know what you think in the comments section below.