What Happened to Terrel Williams? – The Man Who Paralyzed Prichard Colon With Illegal Shots
Published 10/14/2021, 8:06 AM CDT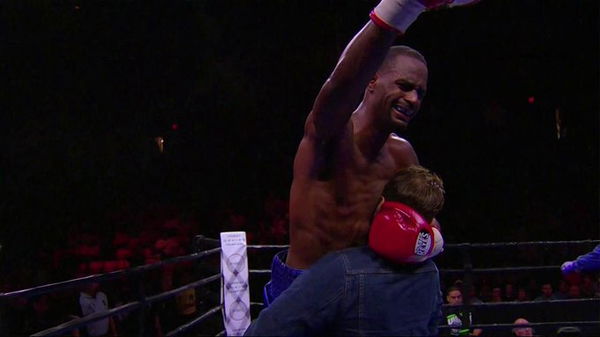 ---
---
Back in 2015, two budding Welterweights fought at the Eagle Bank arena. After the fight, only one of them ever remained the same. Terrel Williams took on the undefeated Super-Welterweight Prichard Colon. Colon came into the fight 16-0 and dreamt of having the WBC belt around his waist.
ADVERTISEMENT
Article continues below this ad
This fight ended up being the last time Colon entered the ring. Since the beginning of the fight, Colon complained to the referee that Williams kept hitting him with 'rabbit punches'. Rabbit punches are illegal in boxing, as they hit the back of the opponent's head. Williams kept throwing rabbit punches and below-the-belt shots.
ADVERTISEMENT
Article continues below this ad
Finally, in the 9th round, Williams did what no other welterweight was able to do against Colon. He knocked Colon down for the third time with rabbit punches. The referee called a stop to the fight in the ninth round and Colon slipped into a coma when they admitted him to the hospital.
Where is Terrel Williams now? 
Initially, Williams took two years off to deal with what happened. Since then, he fought 4 times before he stopped again in September 2019. Williams has stayed off the internet because of which there are no updates on the fight. After his last fight, the Welterweight completely went off the grid.
Six years on from the incident that changed his life, Williams still receives hate for his actions. The only trace of Williams on the internet is his Facebook account, which remains active since 2013. Every day, Facebook users often go to the comments section of the only post that Williams has put up and send hate messages.
ADVERTISEMENT
Article continues below this ad
For Colon, the fight was a mental as well as a physical one. The former undefeated Welterweight went into a coma for 221 days. A testing time for his family. Although still severely damaged, the WBC honored Colon by making him World Boxing Council Champion for life. They presented it to him as a small token of his comeback.
ADVERTISEMENT
Article continues below this ad
Thanks to the kind gesture from the WBC president Mauricio Sulaiman, Colon will forever be known as a WBC champion. They finally fulfilled his dream. As for Williams, the dark cloud of the incident looms over his head and does not seem to be going away anytime soon.
Watch this story: Here Is A Look Inside Mikey Garcias Multi-Million Dollar Car Collection: Rolls Royce, McLaren, and More