Who Is Corky Gonzales and Why Did Google Doodle Honor Him?
Published 10/02/2021, 3:38 AM EDT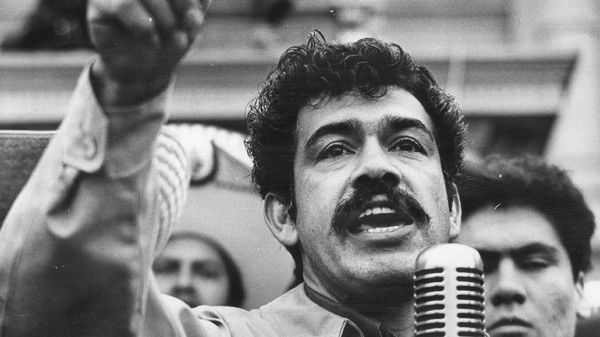 ---
---
The sport of boxing has witnessed several heroic figures across different decades. Corky Gonzales, the American-Mexican boxer, is one of them. Although his in-ring achievements aren't very exceptional, his life outside the squared circle is a reason people recall him to this day. On Friday, Google Doodle paid homage to the late pugilist.
ADVERTISEMENT
Article continues below this ad
Gonzalez, who had cherished impeccable stardom for his social activities in the late '60s and 70s, became a common name to the modern-age people this past week. There are still a lot of things that the mainstream audience isn't aware of, but Gonzales's identity of being a political hero, a poet, and a pugilist is very well-known all over the world.
ADVERTISEMENT
Article continues below this ad
Doodle Guest artist Roxie Vizcarra created the boxer's impression on Google, which grabbed extreme attention from the audience. The artist expressed her thoughts on the particular project and explained why it meant so much to her.
She said, "The concept for this doodle is a slide show that shows journeys through this man's lifetime fighting for not only racial, but social-economical quality. I had never actually heard of him before. So, I really enjoyed searching for images."
Gonzales' political works continue to influence several people. And most of it had come from his tough upbringing as a child. He was the youngest child of Federico and Indalesia Gonzales and was named Rodolfo Gonzales. His father, an immigrant, had experienced the hardships of the Mexican revolution. He passed on the lessons to his son.
Meanwhile, Corky Gonzales lost his mother at the early age of 2 and was deprived of his mother's love all his life. Here's a look at his boxing career and his political life.
Corky Gonzales – The Boxer
Coming across sheer challenges of poverty in his childhood, Gonzales was built strong. It helped him attain a lot of success in boxing. In an eight-year-long career from 1947 to 1955, Corky Gonzales registered a record of 61-11 with 11 Knockout victories. He never fought for a world title, but could have done so in the future.
While he could have continued fighting after beating Paul Smith, Gonzales retired to take up politics as a full-time career. His love for the people was also a prime reason for making the move.
He was also a skilled poet and had written several inspirational poems that evoked his will for political movements. His creative poems also grabbed a lot of attention. One of his most famous works was the poem 'Yo Soy Joaquin', which translates to 'I am Joaquin'. It was based on the Chicano movement and the struggles of people and became extremely popular.
"I am the masses of my people and I receives to be absorbed. I am Joaquin," explained the boxer.
Gonzalez always took major inspiration from the works of Martin Luther King and Cesar Chavez. It ultimately helped him serve society.
ADVERTISEMENT
Article continues below this ad
The Art and Political journey
Martin Luther King's works have been the source of inspiration for the political works of Corky Gonzales. Per reports, he founded Crusader for Justice in 1966, which worked for the welfare of Chicano civil rights in the USA. There years later, he formed the maiden National Chicano Youth Liberation Conference. The movement was a massive success.
A high-school graduate, Corky was also involved with the formation of umpteen schools and institutes. Thus, his well-doing turned him into a hero.
ADVERTISEMENT
Article continues below this ad
Watch This Story: Most Dangerous Heavyweight Boxers in 2021
While most boxers relish stardom and love from fans, Corky Gonzales earned respect and admiration, along with all the other successes. He is one of the most prolific names in the sport and will always remain so.