Who Won Floyd Mayweather vs. Logan Paul?: Results, Purses, Stats, Scorecards, PPV Buys, and Full Fight
Published 08/29/2021, 7:35 PM EDT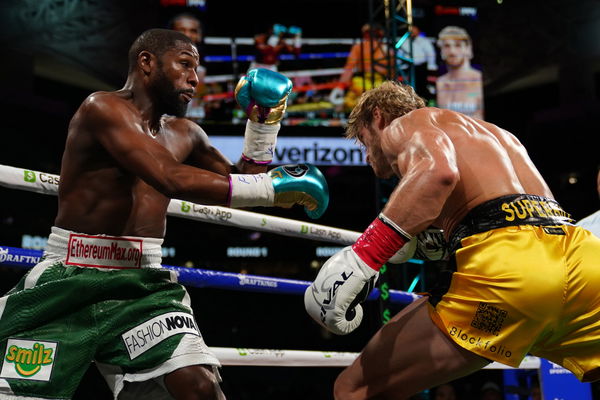 ---
---
The mega clash between YouTube star Logan Paul and boxing's greatest ever, Floyd Mayweather, still seems surreal. To put it into perspective, when 'Money' Mayweather was fighting Conor McGregor in the ring, Logan Paul was uploading YouTube videos with titles like "lighting my brother's backyard on fire".
ADVERTISEMENT
Article continues below this ad
Four years later, Logan Paul towered over Floyd Mayweather in a boxing ring. This matchup seemed surreal even to Logan Paul, as he himself talked about how nothing is impossible after the fight.
ADVERTISEMENT
Article continues below this ad
His brother, Jake Paul, took inspiration from him and now believes he can pursue big names in combat sports like Conor McGregor, Gervonta Dahttps://www.essentiallysports.com/tag/jake-paul/vis and even Canelo Alvarez.
Here's a look back at what actually went down between Logan Paul and Floyd Mayweather in their exhibition bout on June 6, 2021-
Logan Paul vs Floyd Mayweather – Results and fight stats
While Mayweather is always confident in his abilities, he is also equally smart with the decisions he makes in and out of the ring. Aware of the obvious size difference, there was always a small room for a knockout or being overpowered in the fight. So, this fight was not sanctioned, was not officially scored by judges and no winner was announced at the end.
Boxing purists never expected Logan Paul to last against Mayweather, let alone outbox him. However, the 26-year-old showed decent skills inside the ring against the boxing legend and went the distance with his opponent.
His ability to survive against 'Pretty Boy' earned Logan Paul a moral victory and proved that 'father time' took a little away from Mayweather.
However, the fight stats suggested that Floyd Mayweather secured yet another easy win. He outboxed and outclassed the Ohio native. 'Money' landed more jabs with his usual 'stick and move' approach, showcased more power and was overall the better striker on that night.
Unofficial scorecards
While there were no official scorecards, many boxing analysts, experts and even other fighters shared their own takes and versions of scorecards for the fight.
Boxing analyst Dan Rafael shared that Floyd Mayweather lost rounds 1 and 2 but went on to dominate the rest of the fight with ease.
Rd 8: Floyd 10-9. Floyd easy work. Gave away rd 1 and 2 and then won every second thereafter. 6-2 Floyd. They go the distance. No official scores will be rendered. #boxing #MayweatherPaul

— Dan Rafael (@DanRafael1) June 7, 2021
Marc Raimondi said that round 7 was Logan Paul's best round. He added that Floyd Mayweather did not seem very active in that round and allotted a 10-9 score to Paul.
Round 7: It's getting chippy now. Lots of clinching. Some talking back and forth. But arguably Paul's best round since the seventh. He did land a left hand and this was the first round in awhile Mayweather didn't land much of significance. Paul 10-9…. https://t.co/vPLYiDbyMF

— Marc Raimondi (@marc_raimondi) June 7, 2021
Even his brother, Jake 'The Problem Child' Paul shared that Logan Paul was winning the fight, even before heading into round 7.
LOGAN PAUL

4 rounds to 2

Going into 7th

— Jake Paul (@jakepaul) June 7, 2021
Pay-per-view buys
Nobody expected this bout to go the distance. But to everyone's surprise, the tussle went till the final bell and left the fans entertained. Moreover, the bout fared exuberantly well on fans' expectations and it reportedly hit over 1 million PPV buys.
ADVERTISEMENT
Article continues below this ad
Mike Coppinger reported on Twitter that source predicted at least 1 million PPV buys.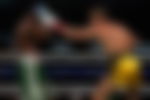 "Sources: The Floyd Mayweather-Logan Paul exhibition generated over 1 million buys on pay-per-view. The PPV was available via Showtime and Fanmio at $49.99. There's no precise PPV number available yet, but the show will at least exceed 1 million in buys," wrote Mike Coppinger.
ADVERTISEMENT
Article continues below this ad
Earlier, it was reported that the Mayweather vs Paul event failed to generate the expected 1 million PPV buys. However, it seems that this fight stood tall on everyone's expectations.