Who Won Manny Pacquiao vs. Adrien Broner, and How Much Money Did Both Boxers Make?
Published 08/17/2021, 12:21 PM EDT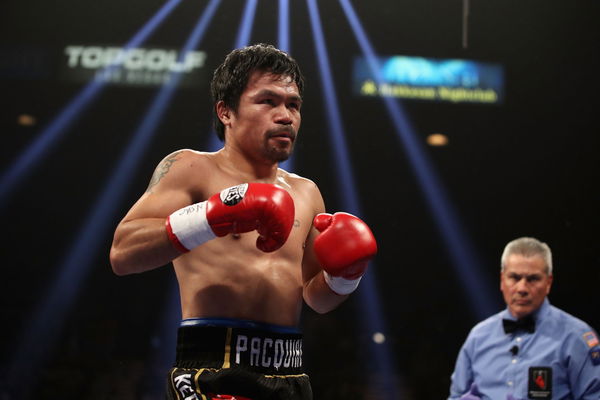 ---
---
Manny Pacquiao Vs Adrien Broner was billed as the 'Return to Las Vegas' fight. They fought for the WBA welterweight championship at the MGM Grand Garden Arena in Las Vegas on January 19, 2019. Manny Pacquiao was out to prove that even at age 40, he was a force to be reckoned with.
ADVERTISEMENT
Article continues below this ad
Manny Pacquiao fought on US soil for the first time since 2016 and also for the first time as a forty-year-old. The fight sold 400,000 PPV buys in the United States, earning an estimated $30 Million in pay-per-view revenue.
The fight made $6 million on 11,000 plus tickets sold. Manny Pacquiao reportedly made $20 million from the fight. Broner, on the other hand, earned a $2.5 million fight purse.
ADVERTISEMENT
Article continues below this ad
Manny Pacquiao attempted 48% more punches than Adrien Broner, landing 62 more total than his opponent. Pacquiao connected on 44 more body shots than Broner who was only credited with THREE the entire 12 round fight. This was a domination situation. pic.twitter.com/Io8JqIC8DJ

— Ben Maller (@benmaller) January 20, 2019
Pacquiao charged Broner and landed 70 jabs in the first three rounds. Pacquiao surged in the middle rounds, landing a big left to the body and then dominating the seventh round. He stunned Broner on many occasions, but he just could not find that final strike. He put Broner against the ropes and went to town.
Then in the ninth round, Pacquiao stunned Broner again with a straight shot to his face. Manny displayed his inhuman cardio as he cruised through the final rounds. Broner barely even retaliated in the last few rounds.
Pacquiao wasn't as dominant and explosive as he used to be, but for a 40-year-old boxer, he was impressive. He wasn't able to score any knockdowns, even though he came close a few times. This was Pacquiao's first fight under Al Haymon and the PBC banner. Pacquiao cruised to a victory by unanimous decision. All three judges scored in Pacquiao's favor.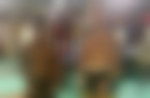 Manny Pacquiao Vs Adrien Broner post-fight interview
Jim Gray hosted the Adrien Broner Vs Manny Pacquiao post-match interview. He interviewed Manny and asked him about a potential rematch with Floyd. Floyd was in attendance as he watched Pacquiao beat Broner from pillar to post.
ADVERTISEMENT
Article continues below this ad
"Tell him to come back to the ring and we will fight. I'm willing to fight again Floyd Mayweather if he's willing to come back to boxing." Pacquiao was calm and collected during his interview. The same cannot be said about Adrien Broner.
Despite clearly losing the fight, Broner seemed to think he won the fight. "I beat him, everybody out there know I beat him," a delusional Broner shouted in the ring. "I controlled the fight. He was missing. And I hit him clean more times."
ADVERTISEMENT
Article continues below this ad
Jim Gray had to remind Broner that he was 3-3-1 in his last seven fights and that he couldn't land more than 7 punches in any given round. To which Broner replied, saying, "I'm 3-3-1 in my last seven, but I'd be 7-0 against you". "Well," Gray responded. "That wouldn't mean much."
Adrien Broner lost twice in the same night, first to Pacquiao then to Jim Gray.