Why Did Floyd Mayweather Sucker Punch Victor Ortiz in 2011?
Published 08/20/2021, 7:12 PM EDT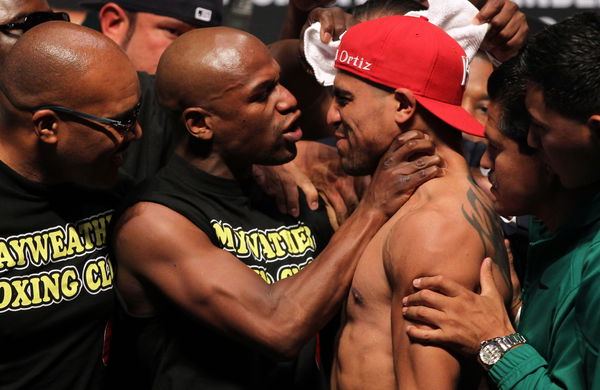 ---
---
On 17th September 2011, former WBC welterweight champion Victor Ortiz faced boxing's 'Pretty Boy', Floyd Mayweather at the MGM Grand in Las Vegas. To date, this fight is considered one of the most controversial in the sport. Mayweather seemed like the dominant boxer right from the get-go.
ADVERTISEMENT
Article continues below this ad
It looked as if the fight was progressing in favor of 'Money' through the rounds. However, the end of the fight caused a lot of controversy in the boxing community as Mayweather closed the show for Victor Ortiz with 'sucker-punch'. Even a decade later, boxing purists still argue and debate whether the knockout was fair and ethical.
ADVERTISEMENT
Article continues below this ad
In the first few rounds, Victor Ortiz seemed agile and showed explosive striking. While he did not look like the weaker opponent, Floyd Mayweather's world-class defense and movement helped him dodge most of Ortiz's shots. In the fourth round, Ortiz launched a headbutt at Mayweather's face and this opened up a cut inside his mouth.
Referee Joe Cortez noticed this illegal move and immediately intervened, split both fighters, and even deducted a point from Ortiz. As soon as the referee resumed the fight, Ortiz approached his opponent and even hugged him.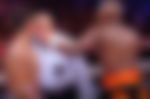 In a split second after embracing him, Floyd Mayweather immediately struck him with a left hook and followed it with a right hand.
This dropped Victor Ortiz right away and because he could not get back up after 10 counts, Cortez called off the fight.
Floyd Mayweather brought in a little bit of Muay Thai
In an interview, Victor Ortiz revealed and exposed Floyd Mayweather's slick movements inside the ring on that night. He said that his opponent landed sixteen elbow strikes to his right eye, which caused severe damage. Ortiz also pointed out that the referee did not consider his initial complaint regarding the elbows and instead asked him to continue.
"I'll be honest, what led up to that headbutt was that I took 16 elbows to my right eye, therefore making it closed. Floyd does this really slick thing where he's throwing a hook, it looks like a hook is landing, but in reality, he's landing the elbow. So he started hitting me with that elbow, I took 16 of them. Between there, I called about 4 of those to Cortez 'elbow, Cortez, elbow!', he said 'keep boxing Vic, keep boxing Ortiz'," said Victor Ortiz.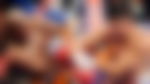 At the end of round 2, Ortiz told his corner about the elbow strikes and pointed out that they were hurting him. They asked him to tell that to the referee even when he had already done that. Out of the blue, a cornerman asked him to headbutt Mayweather and said that his opponent could make him go blind if he doesn't counter his elbows. Ortiz did not pay much attention to this advice and proceeded with rounds 3 and 4.
Victor Ortiz almost had his retina ripped out
In round 4, Ortiz doubled down on his explosive striking. As he managed to push Mayweather into the corner, his Philly Shell guard proved ineffective and he resorted to another elbow strike to his eye. He felt as if it had caused a retina injury. A frustrated Ortiz then decided to resort to dirty play by launching a headbutt right into his opponent's face.
"So third and fourth, I'm pressuring forward and he has that look in his eye like 'I've never been hit like this before, what's going on?'. He was going back, uncomfortably, not on his terms.
"So, I'm coming forward and I got him against the ropes and that little thing he does (Philly shell), that defense don't work for me, I'm left-handed.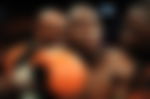 ADVERTISEMENT
Article continues below this ad
"And then out of nowhere, he hit me with that elbow and it felt like he ripped my retina. Man, when he did that, I thought, boom,"  Ortiz added.
Ortiz added that he was not proud of that foul play and that throughout his extensive amateur and professional career, he had not done anything like that. He said that he felt like a "dirty person" on that night.
After Floyd landed the first sharp left hook to his face, Ortiz said that he looked at Cortez for a time-in but then his opponent landed a subsequent right hand that then dropped him to the canvas. He even pointed out that Cortez's countdown was very fast and the fastest he had ever seen in his career.
ADVERTISEMENT
Article continues below this ad