Why is Hotboxin' With Mike Tyson Podcast Receiving Extreme Criticism?
Published 01/30/2021, 4:30 PM EST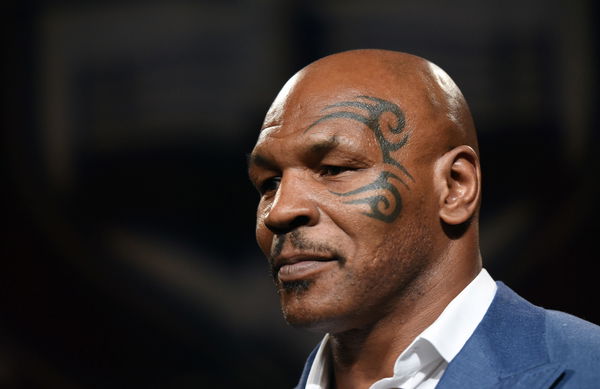 ---
---
The Hotboxin podcast has done tons of episodes with boxing celebrities. These podcasts hosted by Mike Tyson and others saw millions of fans tune in regularly. Fans absolutely loved the show format, but for the past few days, it has been on the receiving end of fan backlash.
ADVERTISEMENT
Article continues below this ad
The sole reason behind this criticism is the absence of Eben Britton, who hosted the show alongside Tyson a few times.
The recent videos posted on the YouTube channel of this podcast are filled with fuming comments from fans, who are asking the show owner and Mike Tyson to bring back their favorite host, Eben Britton.
ADVERTISEMENT
Article continues below this ad
Season 3 of this podcast started with Britton being the co-host alongside Mike Tyson. But, his abrupt removal from the show surprised fans.
A fan commented on the recently released podcast. He wrote, "We miss Eben, BIGTIME!"

However, he was not the only one to comment. Several other fans sponsored his thought and shared their notion at this juncture.
"We gonna just keep spamming dislikes on every post until they get the message #bringbackeben" wrote another fan.

Read – Caleb Plant Explains Why He is Fighting Back-to-Back Mandatories
Eben Britton reasoned why he left the Hotboxin podcast with Mike Tyson
Following the response from his fans, Britton took to his Instagram handle to settle things once in for all. He opened up on why he left the show.
Throughout the podcast, he asserted on not settling on the monetary terms with the Hotboxin team. He even said, "For better or worse, I have mouths to feed. I need to make money and support myself and my family." 
The former NFL star also urged his fans to never work for free.
ADVERTISEMENT
Article continues below this ad
He totally lauded his relationship with 'Iron' Mike and clarified that 'Iron' wasn't involved in this concern by any means. In fact, he rolled out some really positive messages for Tyson, and wished to work with him in the future.
ADVERTISEMENT
Article continues below this ad
Ardent fans of this show loved the Tyson-Britton pair and always rooted for the shows they were a part of. They still expect Hotboxin team to iron out their issues with Britton and get him back on the show.
What do you make of Britton's comments? Should Tyson insist on bringing the former NFL star back to the show?