Why Was the Scoring Controversial for Floyd Mayweather vs Canelo Alvarez?
Published 11/01/2021, 5:31 PM EDT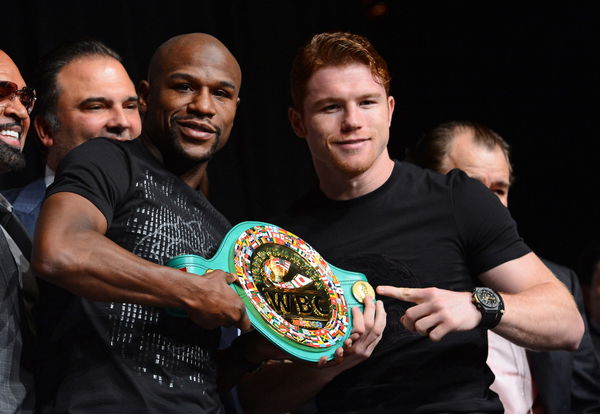 ---
---
It was September 14, 2013, and the night was on fire as Floyd Mayweather and Canelo Alvarez were finally set to clash. The MGM Grand had come alive with multitudinous screams, cheers, bright lights, loud music, the swishes of Floyd's Philly-shell, and the echoes of his tactical demolition of the 23-year-old prospect.
ADVERTISEMENT
Article continues below this ad
Right from the opening bell, 'Money' Mayweather had complete control over his opponent. The 12-round bout could be best compared to the modern-day 'schooling' of Anthony Joshua by the hands of Oleksandr Usyk in September 2021.
By the second half of this 8-year-old mega welterweight clash, everyone in the stands knew that Canelo Alvarez simply could not have altered the inevitable outcome that night.
ADVERTISEMENT
Article continues below this ad
It just seemed clear as day to almost everyone with an elementary understanding of the sport that it was a landslide win for boxing's 'Pretty Boy'. There was simply no two ways about it; it seemed like a very obvious unanimous decision victory for the face of TMT.
Floyd Mayweather has shown a lot of iconic post-fight reactions; however, his "what the f**k" remark after this 2013 fight was a fair representation of what the judges had penned down in their scorecards.
Even though, in the end, the best man bagged the win, the judges' scorecards from that night point to a clear bias and a conspiracy to sabotage Mayweather's undefeated streak at the time.
Floyd Mayweather vs Canelo Alvarez: Breaking down the judges' scorecards
In a post-2011 Victor Ortiz-sucker punch era, Floyd Mayweather had become the 'villain' of the sport. Looking at his success, skills, and undefeated record, many grew a sense of resentment and dislike towards the now-retired icon of the sport.
Then came in Canelo Alvarez. On the night of their fight, the undefeated Mexican stepped into the ring as the one last 'savior' that actually had the right set of tools available to beat Mayweather. But, of course, he failed.
However, what happened to Canelo that night would happen once again to Manny Pacquiao in 2015. One can draw up a list of excuses as to why both Canelo and Pacquiao lost to him, but the truth is Floyd was simply levels above them, at least on those specific nights.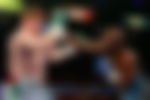 However, one judge for the Floyd-Canelo clash could have potentially changed the course of boxing history forever if the other two judges were also equally biased. Floyd Mayweather defeated Alvarez in 2013 by way of a majority decision; however, this was very clearly a unanimous decision win.
There was just one person responsible for this misrepresentation of Floyd's efforts that night – CJ Ross. Per BoxRec, judges Dave Moretti and Craig Metcalfe scored the fight 116-112 and 117-111 respectively in favor of Mayweather. However, judge CJ Ross somehow managed to evaluate those 12 rounds as 114-114 even.
As that 114-114 score was announced, a wave of 'what the f**ks' echoed across the MGM Grand. To date, this is considered to be one of the most controversial decisions of all time. Luckily, the other two judges did a fair job; they scored the fight in favor of the better man that night.
What happened to CJ Ross after the Floyd vs Canelo scoring debacle?
The judge responsible for Floyd Mayweather's 'majority' decision win against Alvarez was also responsible for yet another blunder in boxing history – Timothy Bradley Jr. vs Manny Pacquiao 1 in 2012. The fight was very clearly dominated and controlled by 'The People's Champ'; but two judges including Ross somehow saw the fight go the other way.
So, right from 2012, boxing fans were already on the edge with CJ Ross' judgments. And, the Floyd vs Canelo fight was just the tipping point. Not even a week after the theft of Floyd's unanimous decision win, ESPN's Dan Rafael shared an update directly from CJ Ross with the world.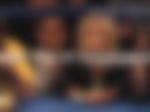 This update from the controversial judge restored hope among fans of the sport-
"I will be taking some time off from boxing but will keep in touch," said judge CJ Ross.
Boxing commissions have since revised their judge selections processes. However, this has, by no means, completely eradicated unfair and biased judgments in boxing.
How do you think the judgment processes in boxing could become better and more accurate? Do share your thoughts in the comments section.
ADVERTISEMENT
Article continues below this ad
ADVERTISEMENT
Article continues below this ad
Enjoyed reading this article? Download our exclusive app to get 24x7 coverage, latest memes and social media banter. Click here to download.