"You Get What It's Like To Be A N***A'- Mike Tyson On The Rocky Road To Success
Published 03/20/2020, 1:20 PM EDT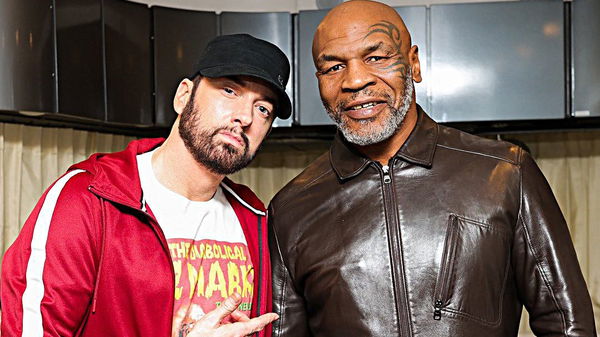 ---
---
The boxing legend who owns a cannabis outlet in California recently shared some of it with one of the greatest musicians of this generation, Eminem. Slim shady opens up to Mike Tyson about his life and the road to success on Hotboxin' with Mike Tyson.
ADVERTISEMENT
Article continues below this ad
The boxing stalwart feels that happiness and success cannot be achieved together. He feels one has to sacrifice happiness to be truly successful and achieve your dreams. The competition that exists in this world makes it impossible for one to have both in life, Tyson adds.
Tyson and Eminem delve into the art of achieving one's dreams and goals. In addition, they talk about ambition, success, their love for hip hop, family life, and life as a whole.
ADVERTISEMENT
Article continues below this ad
Success is all about being able to sacrifice.

— Mike Tyson (@MikeTyson) November 7, 2011
"Everything you got was, f*****'—not even given to you. You f*****' slaved for it, you know what I mean? You're the only white guy that knows what it's like to be a n***a."- Mike Tyson
Towards the end, Tyson praises the rap mogul because the success and fame he now has was not handed on a platter.
Eminem Talks To Mike Tyson About The Importance of Commitment
Eminem adds that one needs a special kind of commitment and determination to participate in combat sports. It takes real heart to step into the ring and put one's body on the line.
"If you'd hit me, I'd probably die. Like, right now. I still feel like you can still get in there and fuck people up. To be a fighter … it takes a special kind of person, a special kind of commitment."- Eminem to Mike Tyson
ADVERTISEMENT
Article continues below this ad
The youngest heavyweight boxing champion of the world feels that everyone gets a shot, "everybody gets their turn" to make it to the top. However, that only happens if you have worked hard for the same.
After that, Tyson adds that it takes a lot of sacrifices to reach the top of the as nothing comes easy to anyone.
"Commitment is like … you almost have to give your happiness up to accomplish your goals. In anything, you want to be the best garbage can collector in the world, best in the world at anything … there's going to be disappointment. There is a lot of competition. There's guys who will peak at a younger age than you and blow you away, then you have to deal with a guy who blows you away when he's old."- Mike Tyson
ADVERTISEMENT
Article continues below this ad
Mike Tyson has talked about success and discipline in the past. He feels that discipline is doing what one hates to do but does it like he or she loves it, which is what leads to success.