In one of the biggest fights in heavyweight history, Tyson Fury stepped into the boxing ring against the WBC champion, Deontay Wilder. 
This was a monumental fight for various reasons. For the first time in the history of the sports, two unbeaten heavyweights were going to meet each other in a rematch. And the world of boxing was about to get its unofficial best heavyweight champion of this era. 
The first fight ended in a controversial draw, making the rematch even more intriguing. However, the rematch was not even remotely similar to the first fight. Tyson Fury had learned his lesson as he showed up with an entirely different gameplan in the rematch.
Tyson Fury was in much better shape, he was more aggressive and he completely dominated the fight. After scoring multiple knockdowns Fury finished the fight in the seventh round. Though Fury was clearly the superior boxer from every aspect of the game a narrative of Wilder not being at his best had some impact on the victory lap of the Gypsy King.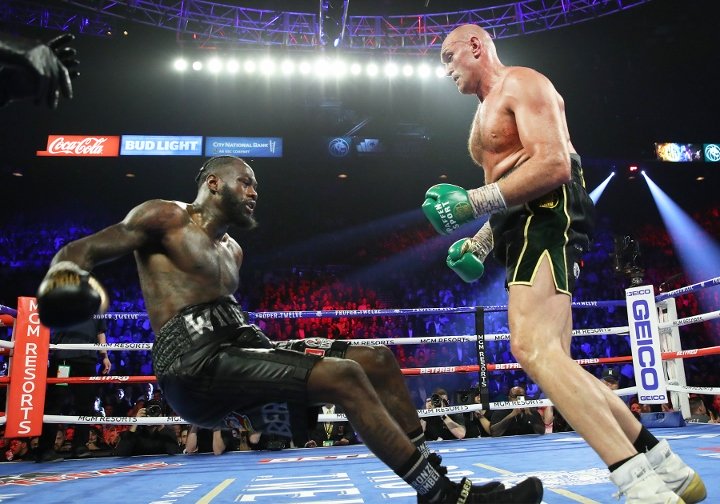 Tyson Fury is looking to repeat history in the third fight
And here we are eagerly waiting for another showdown between these two elite heavyweights. When Fury was asked about the trilogy fight with Wilder, Fury said
"I'll be obliged to give him a bit more(beating)! You never get bored of beating Deontay Wilder, it's one of those things you take great pride in doing," Fury said to Great Morning Britain.
Fury believes he has proved that he is the best heavyweight at the moment and he will be ready to take on Wilder one more time after the Pandemic is out of the way. Fury continued:
"I really did what I said I was going to do and not many people, in boxing especially, say something and then do exactly what they were going to do. So I was quite proud of the performance and I'm really looking forward to getting all this coronavirus out of the way and the world getting back on track and getting back to my job."
The trilogy was originally scheduled to take place in July this year. However, due to the Coronavirus outbreak, the fight is likely to take place in October this year.
The majority of the fans now believe that the outcome is not going to change much in the third fight. However, over the years we have seen Deontay Wilder beat the odds. The question is can he do it again in the most important fight of his career.