"Your Heart Came Out of Your A*s" – Reporter Details His Tense Moment With "Boogeyman" Mike Tyson
Published 05/05/2022, 7:30 AM EDT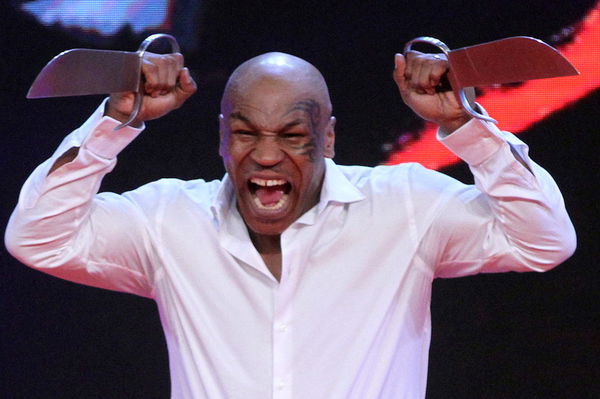 There is a reason why people address Mike Tyson as 'The Baddest Man on the Planet'. Reporter DJ Vlad is someone who has experienced it and he shared his tense moment with Tyson to the rapper China Mac. 
ADVERTISEMENT
Article continues below this ad
DJ Vlad, who recently interviewed Mike Tyson, managed to anger 'Iron' with a question.
ADVERTISEMENT
Article continues below this ad
He asked, "Here you are this multi-millionaire, and you know it seems like you've always been attracted to the guys that are still on streets to a certain degree. Do you think that's a fair statement?"
At first, 'Kid Dynamite' seemed annoyed by this question. However, he gave a straightforward answer to the reporter and expressed how these people are helpful to him in day-to-day life. As this question may have offended 'Iron' to an extent, he replied to it in an aggressive tone.
Well, Tyson's aggressive reply scared DJ Vlad. After a few days, Vlad described this scenario to China Mac. When the American rapper heard the story, he exclaimed, "At that moment. That was at that moment that's when your heart came out of your a*s!"
Moreover, DJ Vlad also narrated why he was always scared of Tyson and how this incident frightened him more.
The reporter said, "I'm here with Mike Tyson, 'the scariest man in the world'. To me growing up like. You know, like you guys saying like someone in their 40s like Mike Tyson was our 'boogeyman', like, like that was the dude was unbeatable, would destroy anybody."
DJ Vlad related Tyson to a 'boogeyman' in his childhood because of Tyson's brutality in the ring.
Why do people call Mike Tyson the 'boogeyman'?
'Iron' Mike Tyson had an impressive professional boxing career. He achieved a magnificent feat in the early stage of his boxing stint and was a world champion at 20. 'Kid Dynamite' won 50 fights in his career, out of which 44 wins came via knockout. 
Other than knocking out his opponents, there are other moments where 'Iron' Mike has shown his brutality. Many still remember a controversial incident of Tyson where he bit Evander Holyfield's ear during their second fight in 1997. 
ADVERTISEMENT
Article continues below this ad
Apart from this, a recent incident of Tyson went viral on the internet when he behaved aggressively with a co-passenger during a flight. There were several reasons for Tyson's reaction, but it scared the other passengers.
Above all, it shows that not only the professional fighters but also other people can be victims of Tyson's fury should they upset him. 
ADVERTISEMENT
Article continues below this ad
Watch This Story: Boxing Schedule May 2022
Do you think there is any other boxer who is scarier than Mike Tyson?