THROWBACK: When Floyd Mayweather Had a Heated Conversation With a Commentator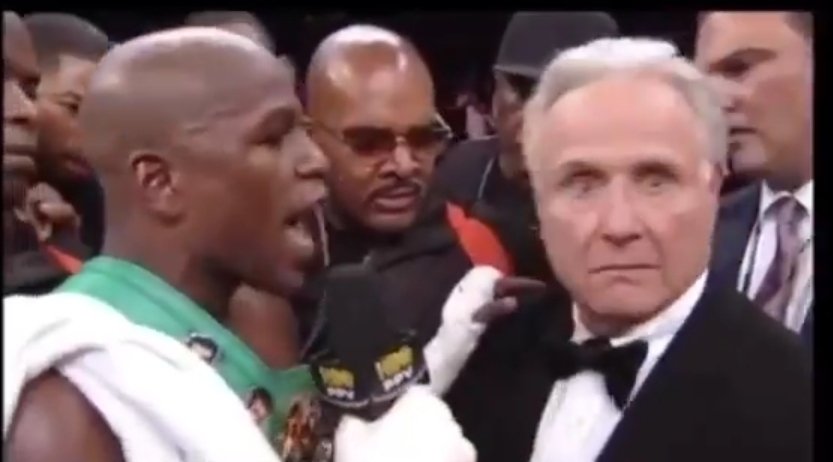 In 2011, Floyd Mayweather fought Victor Ortiz for the WBC Welterweight title. Although it was a closely fought match, people remember the fight more for what happened towards the end of it.
In the final round of the fight, Mayweather won via a knockout. A knockout that many believe he achieved in an unsportsmanlike manner. Ortiz seemed like going towards Mayweather to apologize him for a headbutt but Mayweather started to punching him, inflicting a knockout.
After the fight, Mayweather said that he only did what a boxer would do in a bout.
"You gotta protect yourself at all times. I got hit with a head-butt, I got hit with elbows," he said. "I didn't cry and complain, I did what I had to do as a fighter, I didn't say my mouth was split open and cut inside. So, keep it clean. We touched gloves. Once we touched gloves, it's fight time."
Although Ortiz was not happy about what happened, he admitted that he only had himself to blame.
"I took a break by the referee and I obeyed exactly what I was told," Ortiz said. "And then, boom, he blindsided me. I'm not a dirty fighter and I apologize for the head-butt. I came to entertain the fans and I think they were entertained. There was a miscommunication with the referee, and neither he nor I are perfect."
🗓 Mayweather v Ortiz, Sept 2011

Mayweather adds the WBC welterweight title to his collection. pic.twitter.com/2J7riOL8NQ

— All Of The Belts 🥊 (@AllOfTheBelts) December 18, 2019
Also see: Watch: When Brock Lesnar Got Destroyed Inside the UFC Octagon
Floyd Mayweather gets a response from commentator
The controversy continued after the fight when Mayweather responded badly to criticism from HBO pay-per-view commentator, Larry Merchant. While talking after the fight, Mayweather shouted at Merchant: "You never give me a fair shake. You are shit and HBO should fire you. You don't know shit about boxing, you ain't shit."
Merchant responded: "I wish I was 50 years younger and I would kick your ass."