Tyson Fury recently featured in an interview with Fight Hub TV. He took the interviewer through his process of training for his upcoming title fight against Deontay Wilder. From all he said, it seems like Deontay Wilder is going to be seeing a completely different Fury on 22 February.
The two had earlier met back in December 2018 and fought one of the most phenomenal battles in boxing history. The fight had gone the length of 12 rounds and ended in a draw. Ever since then, demands of 'Wilder vs. Fury 2' have been the loudest echoes in the Boxing World.
Tyson Fury shared his views regarding why this time the duel will pan out much differently. According to him, both fighters will look to knock the other down. If the fight does go the entire length of 12 rounds again, Fury is confident that he will win all 12 rounds. He said, "I just wanna give him some payback and make him kiss the canvas a few times," referring to the knockout punch Wilder had delivered to Fury in their previous confrontation.
Also Read: "I Was Out Few Seconds": Tyson Fury Recalls the Frightening Knock Down Against Deontay Wilder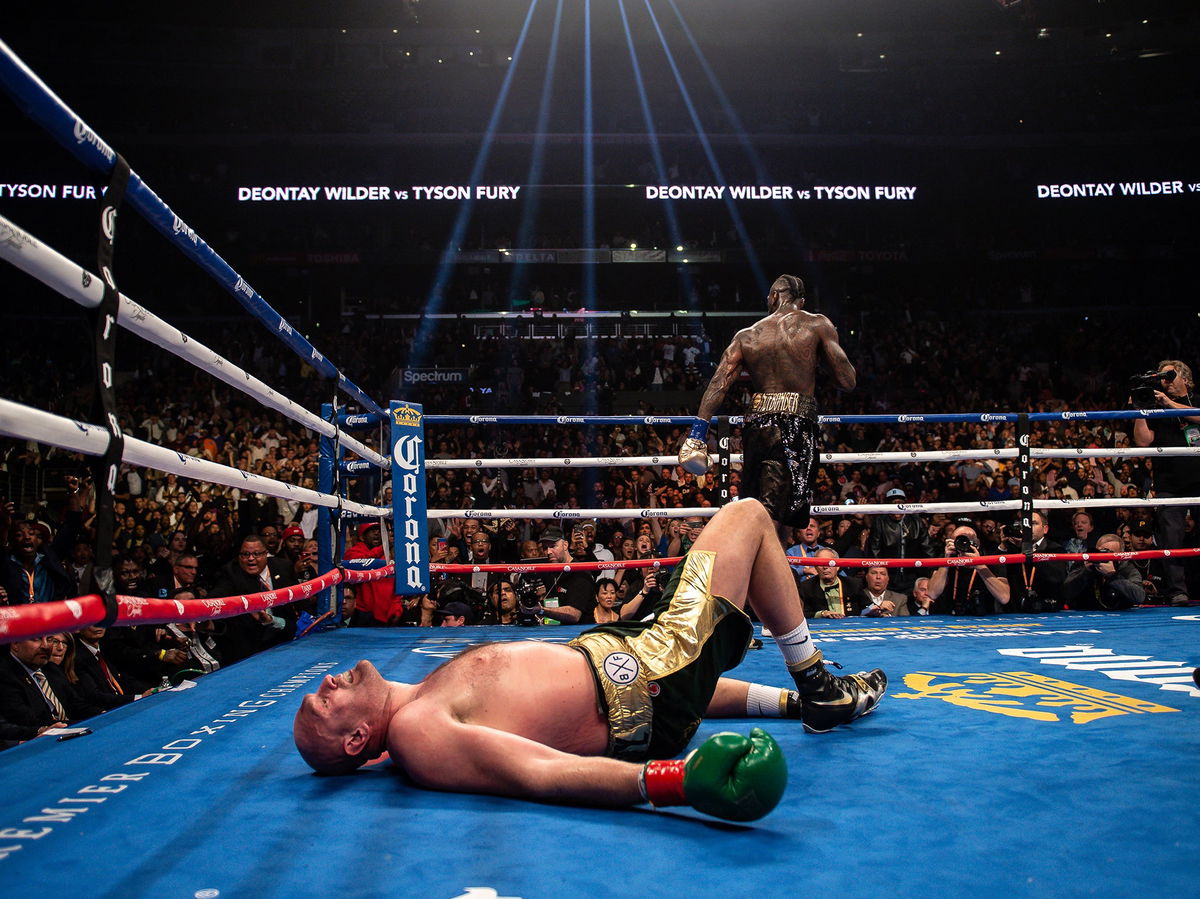 While speaking about his training for the matchup, Fury told the interviewer that he has left no stones unturned. He has completely dedicated himself to the fight. He is eating the right food, sparring with the right variety of partners, drinking adequate water, going to bed early and waking up early. he even told the interviewer that he has limited himself to only an hour on the phone. Fury said,
"I can't prepare any better for this fight. There's nothing in distracting me and I'm happy in my own mind. Nothing esle matters in my life at the moment."
"I see him going down with a jab, straight left": Tyson Fury on Knocking Out Wilder
Later in the interview, Fury boldly asserted his confidence. According to him, if the fight gets over quick, it means Wilder will have been knocked out and if the fight goes the distance, he will have won all 12 rounds. He said, "I think I see him going down with a jab. Straight left. I think I put Schwartz down with that jab and I've done many in the gym as well. So that's (what) we're looking for. Knuckles down straight jab to the nose."
Tyson Fury also said that he has never trained for any other fight like this. In his mind, he never needed to sacrifice so much, which is pretty evident. Yet, he chose to train this hard for the fight for one reason. He stated that he would never make excuses for a loss but his family, friends, and colleagues might. Fury said, "I don't want there to be any excuses after the fight, 'what-ifs', because we all know there's no more we can do to prepare for a fight."
Hearing about 'The Gypsy King' train so extensively is enough to send down shivers through any human's spine, let alone the person who is about to face him. While Deontay Wilder did give Fury a run for his money last time, Fury seems much better prepared. Does 'The Bronze Bomber' stand an equal chance at winning?