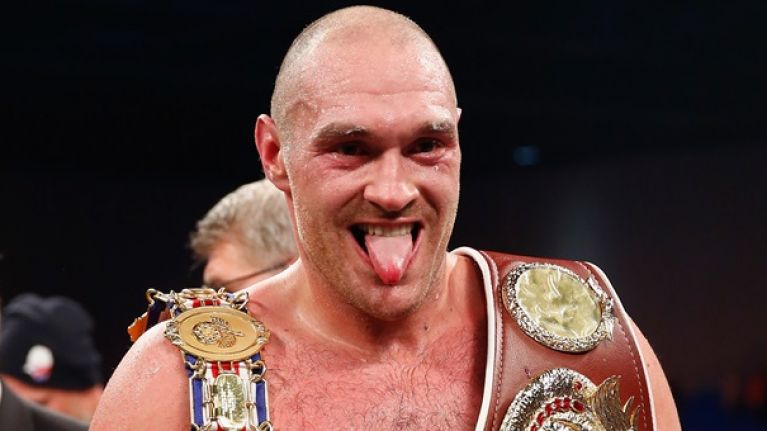 Ahead of his big fight with Deontay Wilder, Tyson Fury makes yet another absurd claim. This time he stuns a reporter on a media conference call.
Since Tyson Fury was knocked down twice in the first fight against Deontay Wilder, a reporter questioned Fury's chin. Fury came up with the most bizarre reply ever.
Tyson Fury shares his training technique
Fury said: "I have got confidence in my chin but I've been doing a lot of p***y licking to strengthen my jaw up," Fury said matter-of-factly."
🤣 Classic Tyson Fury in today's media call as he explains the special training exercise he is using to help strengthen his jaw for Deontay Wilder's punches… pic.twitter.com/Xr64hjQ4Kj

— Michael Benson (@MichaelBensonn) February 13, 2020
However, this is not the first time Fury has said something of this nature. Back in January, he said that he masturbates 7 times a day to get his testosterone pumping. In another statement, he said that he dips his hands in petrol to generate punching power. Fury is one of the best trash talkers in the game. He knows exactly how to mess with the media or get inside his opponents' head.
The duo fought in December 2019. However, the bout ended in a controversial draw even though Fury outclassed Wilder for the majority of the match. Wilder, who is probably the hardest hitter in the heavyweight division, scored two knockdowns in the match. Many speculate that this probably swayed the judges' mind.
Some fans called it a "robbery" and demanded a rematch. More than a year later, the fans finally get to see what they asked for. Wilder and Fury will face each other on February 22, 2020. Fury is one of the most technically sound boxers and has a solid chance of winning. He might be the only boxer good enough to beat Wilder.
What do you feel about Fury's chances against Wilder? And, What do you feel about Fury's comments on his training methods?
Read: Tyson Fury Sets a Bold Stipulation For Deontay Wilder Rematch