5 Times Ben Askren Proved He's the King of Trash Talk
Published 04/16/2021, 1:00 PM EDT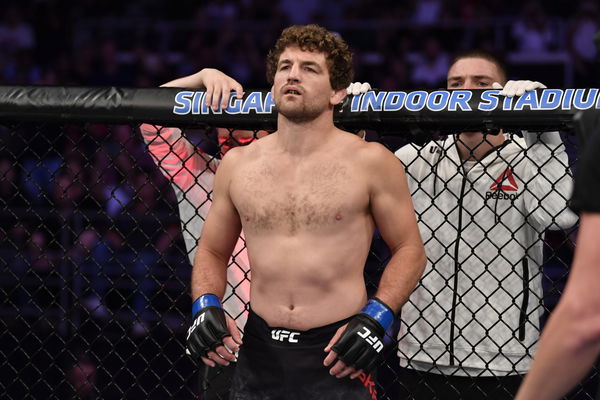 ---
---
Former UFC star-turned boxer Ben Askren has always been more than just an elite world champion fighter. He has participated across several MMA organizations in the world and has boasted an interesting off-canvas personality. This includes his uncanny stunts, humor, and the sheer mic skill that has troubled several of his opponents in media interactions.
ADVERTISEMENT
Article continues below this ad
While Jake Paul's wrestling abilities are hailed all over the world, his impeccable trash-talking might have taken a back seat before the 36-year-old 'Funky'. Askren has dismantled several of his adversaries, including Jorge Masvidal with words.
Ben Askren- Is he a legend on the mic?
ADVERTISEMENT
Article continues below this ad
The Olympic wrestler has never seemed to lose his calm outside the cage. He always has a smile on his face, but directs scratchy comments towards his opposition. BMF Jorge Masvidal also had to suffer it, as he was scheduled to fight Ben Askren at UFC 239. Prior to the build-up of the fight, Askren appeared confident and vowed to beat 'Gamebred' at any cost. Here's a look at the comments he made.
However, the fight looked absolutely different as Masvidal took five seconds to land a knee and finish Askren. Consequently, the undefeated 'Funky' suffered the maiden loss of his career. Furthermore, he was on the wrong side of the fastest KO ever in UFC history. Despite that, he won the verbal exchanges.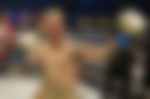 BOOM Roasted
In a media interaction, Askren apparently put little effort into dissing his fellow UFC fighters. He only said a few words before adding his phrase 'Boom Roasted'. Starting from Nick Diaz, Colby Covington, Mike Perry, and several more UFC stars, 'Funky' went up against all of them and destroyed them.
However, 'Funky' checked his words for the former UFC welterweight champion Georges St-Pierre. Askren had nothing but respect for the veteran martial artist.
Ben Askren: 'Hey Dana, is that really the best you got?'
Following a successful UFC debut over Robbie Lawler, an undefeated Ben Askren put the entire welterweight division on notice. However, he seemingly demeaned the weight class and asked for the best challenge. In the post-fight interview, Askren said, "Hey Dana, is that really the best you got."
That was his first and only win in UFC. After the fight, Askren fell prey to Jorge Masvidal and Demian Maia in consecutive fights before hanging up his gloves.
'Funky' vs 'The Nigerian Nightmare'
A lot of Usman's critics have been fascinated by the tag of 'Marty' which was thrown into the mix by Colby Covington, and later popularized by Ben Askren, In the high-profile pre-fight press conference, Askren constantly referred to Kamaru Usman as 'Marty'.
At the media event, the then welterweight title challenger appeared bored with the trash talk. However, UFC fans were excited to see Askren collide with Usman via words.
Ben Askren vs Jake Paul
In the build-up of his boxing clash with Jake Paul, Askren hasn't run away from responding to Jake Paul's itchy remarks. The Internet star is well-known for roasting and has delivered several verbal insults to Askren.
ADVERTISEMENT
Article continues below this ad
However, the former UFC fighter has also landed verbal bombs and vowed to beat 'The Problem Child' in the ring. Starting from face-offs to social media posts, he has frequently dissed the 2-0 boxer and has shown fans that he hasn't lost a step.
Which is your favorite Ben Askren trash-talking moment?
ADVERTISEMENT
Article continues below this ad