Dustin Poirier Shares a Powerful Two-Word Message From Mike Tyson
Published 05/04/2022, 7:30 AM EDT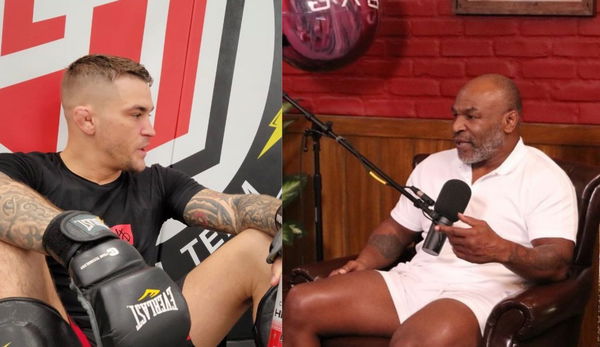 Mike Tyson is an inspiration for many people, especially fighters. He is the reason many got motivated to enter the combat sports sphere and his words proved to be impressive nuggets of motivation to one and all. UFC fighter Dustin Poirier picked up on this and shared Tyson's quote from his t-shirt on his Twitter.
ADVERTISEMENT
Article continues below this ad
ADVERTISEMENT
Article continues below this ad
This message didn't contain any text. It was simply a photo of Tyson wearing a T-shirt that had the words 'be real'. Fans may wonder when Mike Tyson wore that particular top.
When did Kid Dynamite wear this apparel?
'Iron' Mike wore the T-shirt when he walked to the ring for his comeback fight against Francois Botha in 1999. He was away for two years after the ear-biting incident with Evander Holyfield.
Tyson entered the ring with a DMX song and his quirky T-shirt fascinated the crowd. The former champion didn't stop there, as he fascinated boxing fans with yet another finish in the fifth round.
Mike Tyson: An inspiration for many
'Iron' is an idol for many youngsters. It is because of his prominent career and the success he achieved in it. Tyson has motivated the young generation by describing his personal life incidents and sharing his opinions. He has also motivated the people with his kind gestures.
A recent incident when he visited the laughter club with his friends saw a gunman create havoc at the venue.
A heartwarming gesture from Tyson calmed the situation, which overwhelmed the crowd. Tyson also posted this incident with the quote ' Love conquers all'.
ADVERTISEMENT
Article continues below this ad
Tyson proved that 'The Baddest Man on the Planet' can change and follow the peaceful path. This gesture from Tyson inspired his fans around the world.
Watch This Story: Boxing Schedule May 2022
ADVERTISEMENT
Article continues below this ad
There are many incidences when Tyson has shown his kind-hearted gestures and shared motivation to everyone. Thus, he also motivates athletes like Dustin Poirier.
Which incidence or quote from Tyson inspires you a lot? Let us know in the comments below.