MMA Legend Welcomes Jake Paul Into 'Hated by Dana White Club' After UFC 286 Ban
Published 03/19/2023, 7:30 AM EDT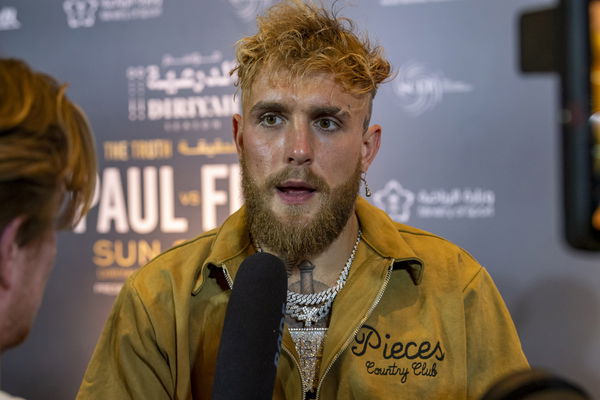 Jake Paul, who recently signed with the PFL, might very soon transition into MMA and set the octagon on fire. Meanwhile, it sure looks like troubles show no sign of leaving the YouTuber-turned-boxing sensation, anytime soon. He was unable to attend UFC 286, due to his UFC ban still being in place. This, however, came as no surprise to fans due to the complicated relationship that he shared with UFC president, Dana White. While the debate on who is right in this situation rages, Paul has found a sturdy hand of support in three-time UFC Heavyweight champion, Randy Couture.
@jakepaul banned from the ufc in London. Welcome to the hated by Dana White club bud !

— Randy Couture (@Randy_Couture) March 19, 2023
ADVERTISEMENT
Article continues below this ad
Leon Edwards recently faced Kamaru Usman at UFC 286 in London. Edwards went on to secure a sensational victory. And, in turn, also retain his UFC Welterweight championship title. Paul, on the other hand, was unable to attend due to his longstanding UFC ban. Couture, who heard about this, quickly came in support of Paul. And also welcomed him to 'the hated by Dana White' club.
'The Problem Child' is friends with many notable names in the UFC. But, with the current ban in force, the last event that he was able to attend was Kamaru Usman vs Jorge Masvidal in 2021.
Is Jake Paul really banned from UFC events?
A rather troubling incident took place during the Masvidal vs Usman fight. During the event, Paul was displayed on the big screen. Which, in turn, led to fans chanting obscenities at him in unison. This incident, however, did not sit well with the UFC's top brass.
Following the incident, Paul went on to announce his UFC ban on his podcast. He said, "I'm banned from UFC events. As Dana banned me after the fans were shouting 'f*ck Jake Paul' at one of the stadiums."
ADVERTISEMENT
Article continues below this ad
Moreover, he further added, "I tried to go to a different fight and all of our tickets were declined, banned. The assistant was like 'get the f*ck out of here'. And then escorted me out of the event."
Conversely, there have been speculations that Paul is not actually banned from UFC events. And that he had made up the entire debacle. What are your thoughts on Paul being banned from UFC events? Let us know in the comments below.
ADVERTISEMENT
Article continues below this ad
Watch This Story: Most Bizarre Things Jake Paul Has Done on Camera: Stealing Floyd Mayweather's Hat, Sneaking Into the White House, and More
Edited By: Shibu Immanuel