Oscar De La Hoya vs. Tyron Woodley Could Happen Next, Says UFC Analyst
Published 03/30/2021, 7:00 AM EDT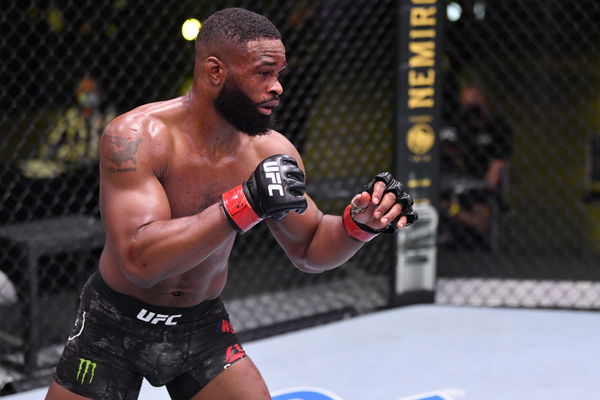 ---
---
Following the fourth consecutive loss of his UFC career, former welterweight champion Tyron Woodley might end up facing Oscar De La Hoya in a boxing clash. Although the bout is far from an official confirmation, the possibility of the matchup already looks sharp and can allure the combat fans for all the right reasons.
ADVERTISEMENT
Article continues below this ad
A few days back, 'The Golden Boy' announced that he will stage his in-ring return on July 3 with a mic-drop alongside Snoop Dog. While he seems to be hunting for an MMA star as his opponent, 'T-Wood' can be a legitimate contender at this stage.
That said, former UFC star Chael Sonnen revealed that he knows something about the matchup on his latest podcast. Although many have already predicted retirement for Woodley, Sonnen opened up on his chances inside the squared circle.
ADVERTISEMENT
Article continues below this ad
"I had a text message from not the world's worst source, telling me that Tyron Woodley is going to be considered for the first boxing opponent against Oscar De La Hoya. I don't know how big I am on this idea, or if I'm going to regret that I even brought this and mentioned it to you guys. I'm just sharing with you that I am not convinced Tyron Woodley is done competing," said Sonnen (h/t: middle easy)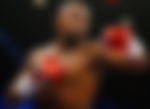 Meanwhile, 38-year-old Woodley can accept a few more scraps inside the octagon. While UFC seems to have shut its doors for him, there are many more promotions. However, the chances of it also appear bleak.
And it will be too quick to predict an immediate future for Woodley.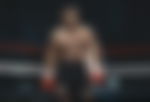 Will Tyron Woodley be a successful boxer?
Woodley, a prolific wrestler, also has enough striking accolades under his name. Before falling into the losing side, he was one of the most dominant champions in the UFC.
That said, he can swing blows and has one of the most powerful fists in the entire combat community.
So, Woodley can find success inside the boxing ring. However, looking at his recent performances, he might not want an immediate battle with a professional boxer.
But if he is offered the perfect deal with the right time on hand, Woodley can rightfully enter the boxing ring.
ADVERTISEMENT
Article continues below this ad
Apart from that, Woodley's boxing stint will demand more. Several contractual protocols are needed to be taken care of.
Several UFC fighters might also want to replace him from the mix. Thus, Tyron Woodley, a boxer, can remain a fantasy for the fans.
Do you think Tyron Woodley still has a few more fights left in him?
ADVERTISEMENT
Article continues below this ad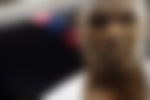 Trending Stories