Claressa Shields Explains Why She is the 'GWOAT' and Not Amanda Nunes
Published 03/09/2021, 2:00 PM EST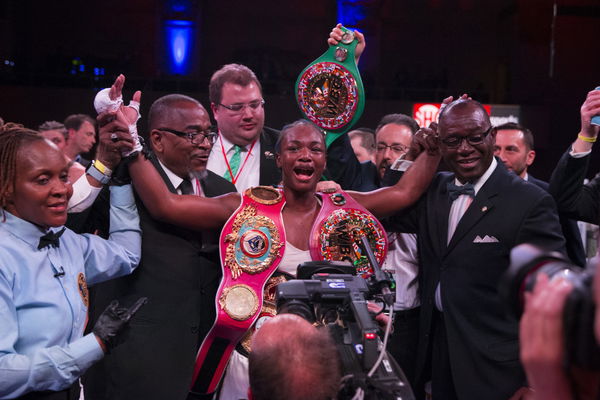 ---
---
Female boxing superstar Claressa Shields has weighed in on the controversial 'GWOAT' debate. The undefeated multi-weight champion has explained why she thinks she is the greatest woman of all time, and not UFC star Amanda Nunes.
ADVERTISEMENT
Article continues below this ad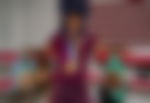 The 'GOAT' debate in any sport is always a subjective matter. And it's the same in boxing. However, with female combat sports, Shields and Nunes have dominated the conversation for a while now, thanks to their preeminence in their respective sports.
ADVERTISEMENT
Article continues below this ad
However, Shields had now given her take on what makes her the 'GWOAT'. She spoke to the AK & Barak Show, and Sirius XM posted the clip on their Twitter. Shields criticized those who say she isn't the greatest because she only boxes, since Nunes also fights only MMA.
She then added, "You got to be able to do both because boxing and MMA are both combat sports. Right now, I'm ahead of the game when you talk about that, because I have my first MMA match June 10th." This comment showed that the boxer thinks her shift to MMA proves her 'GWOAT' status.
READ: 'Good Times': A Look Back at Boxing Champion Katie Taylor From Her Football Days

Claressa Shields teases a fight with Amanda Nunes
Shields is fresh off a historic win over Marie-Eve Dicaire, where she became the first boxer, male or female, to be undisputed in two weight classes. However, she showed her desire to continue to make history and teased a potential bout with 'The Lioness.'
Shields first reiterated that the current UFC double-champion would do nothing to threaten her in a boxing match. She then added, "But the thing is, I'll be able to do something with her, in the MMA cage, just in about two, two-and-a-half years because I'm learning everything so fast. You may see me, me and her, fighting against each other because I'm only 25."
ADVERTISEMENT
Article continues below this ad
This would be an exciting prospect, as Nunes has proven everything she has to in the UFC. There are no more opponents to threaten her position. However, the only thing that the 'Lioness' has not cemented as yet is her status as the greatest across all combat sports.
With Shields' switch to MMA, the prospect of a fight between the two is a real possibility. It would put an end to the long-standing debate.
What do you make of the comments from Claressa Shields? What do you think she needs to do to be the 'GWOAT' ahead of Amanda Nunes?
ADVERTISEMENT
Article continues below this ad
READ: Claressa Shields or Amanda Nunes: Who Is the Real GWOAT?