Conor McGregor Sends Floyd Mayweather A Message After Death In Family
Published 03/19/2020, 11:39 AM EDT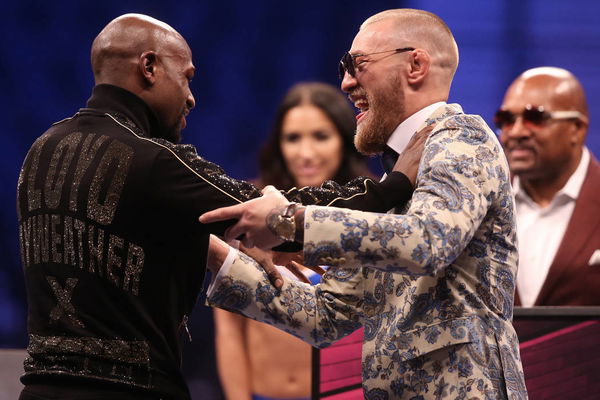 ---
---
Floyd Mayweather has been at the receiving end of a wave of condolences since his uncle and trainer Roger Mayweather's untimely demise. The likes of Conor McGregor, Dana White and more came out in support of the American boxer.
ADVERTISEMENT
Article continues below this ad
Roger Mayweather's death sent tremors all the way down to the roots of the world of combat sports. The 58-year-old finally succumbed after a long battle with diabetes. This is the second tragedy that Money has had to face, the first being the death of his ex-girlfriend and mother of 3 children, Josie Harris.
https://www.instagram.com/p/B96kAFIHA58/?utm_source=ig_web_copy_link
ADVERTISEMENT
Article continues below this ad
Conor McGregor and Floyd Mayweather go way back. The Irishman went toe to toe against Money for 10 rounds. Without a doubt, McGregor took the first three rounds for himself.
The Notorious One looked like he belonged in the ring, looking sharp as ever. However, as he has shown in past in bouts like the one against Nate Diaz, McGregor seemed to gas out towards the end. That gave Mayweather the opportunity to push on and look for the finish.
Conor McGregor And His Future in Boxing
ADVERTISEMENT
Article continues below this ad
McGregor's head coach John Kavanagh has made statements showing to his return to the boxing ring. Kavanagh feels the coming 18 months may see McGregor's return to the ring.
"I'd be honestly surprised if Conor doesn't have a boxing match in the next 12-18 months. He loves boxing. He loved the training for the Mayweather fight. It has to be something big, whatever he does seems to always get bigger. He's always looking for that next step up."-  John Kavanagh on Conor McGregor's return to the boxing ring
Mayweather is keen to take on McGregor only if there is money to be made off it.
ADVERTISEMENT
Article continues below this ad
During their last encounter, Mayweather came away to be the better man, schooling him for the majority of the fight. However, McGregor's performance came out more productive than that of Manny Pacquiao when he faced Money. Therefore, McGregor may just come off with a win the second time he faces the American legend.