'It's Not Even Going to Be Funny'- Dana White Warns Logan Paul Ahead of Floyd Mayweather Fight
Published 01/23/2021, 12:16 PM EST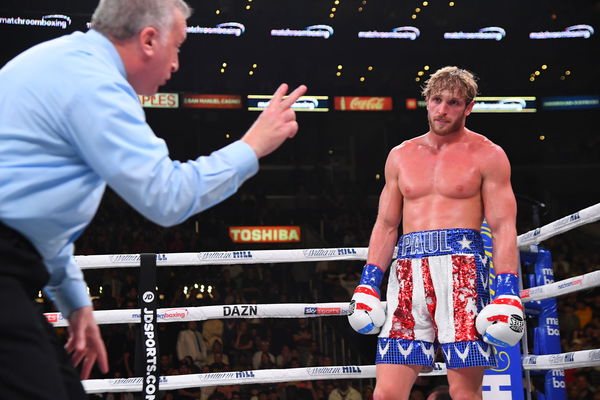 ---
---
Boasting of 0 wins with 1 loss in his boxing career, Logan Paul appears confident before butting heads with the unbeaten Floyd Mayweather in a special exhibition fight.
ADVERTISEMENT
Article continues below this ad
However, he is the underdog for obvious reasons and UFC's chief, Dana White, envisions a lopsided dominance from Mayweather.
Over the past few months, Logan Paul's brother, Jake Paul, has been targeting Dana White and some of his top UFC fighters to seal a boxing matchup for himself.
ADVERTISEMENT
Article continues below this ad
While White has rejected those offers, many might spot his latest comment as resentment over Logan Paul. However, White has claimed of bearing no ill will against the YouTubers. That said, he believes Floyd Mayweather can make it look ugly for Logan Paul inside the ring.
"These kids (Paul brothers) want to make some money and you know they got to do what they got to do and say what they got to say, you know, get in there and make money.
"This is going to be such a one-sided, ridiculous a** whooping. It's not even going to be funny," told Dana White to TMZ.
No matter what the Paul brothers do or say, it doesn't change the fact that Floyd Mayweather is an elite. So, White feels Mayweather's skills will overpower 'The Maverick', irrespective of the YouTuber's advantage in size, shape, and reach.
The UFC chief continued, "It's gonna be bad. I don't dislike either one of these kids. I don't know these kids, I don't dislike these kids. They are doing their thing, good for them.
"They are trying to make some money, whatever. But if Floyd Mayweather really shows up and goes in and fights this kid, it's gonna be an a** whooping like nobody has ever seen before."
Logan Paul vs Floyd Mayweather- Everything you need to know
Unlike the Mike Tyson vs Roy Jones Jr. exhibition, this one will allow the pugilists to knock each other out. So, we can experience some serious in-ring action. The exhibition will go on for 6 rounds. So, the action might arrive at a faster rate. It will be Logan Paul's second professional fight following his loss at the hands of fellow YouTuber KSI in 2019.
ADVERTISEMENT
Article continues below this ad
Meanwhile, Mayweather will return to the ring on the back of his victory over Conor McGregor and Tensin Nasukawa in 2017. It will be a massive stage for 'Money' and the event will take place at the Tokyo Dome in Japan.
Even though hardcore fight fans don't see any boxing value to the event, it still has the potential to be a PPV record-setter. Do you think Logan Paul has the slightest chance against Floyd Mayweather inside the squared circle?
ADVERTISEMENT
Article continues below this ad