What Does Anthony Joshua Eat For His Amazing physique
Published 03/28/2020, 12:35 PM EDT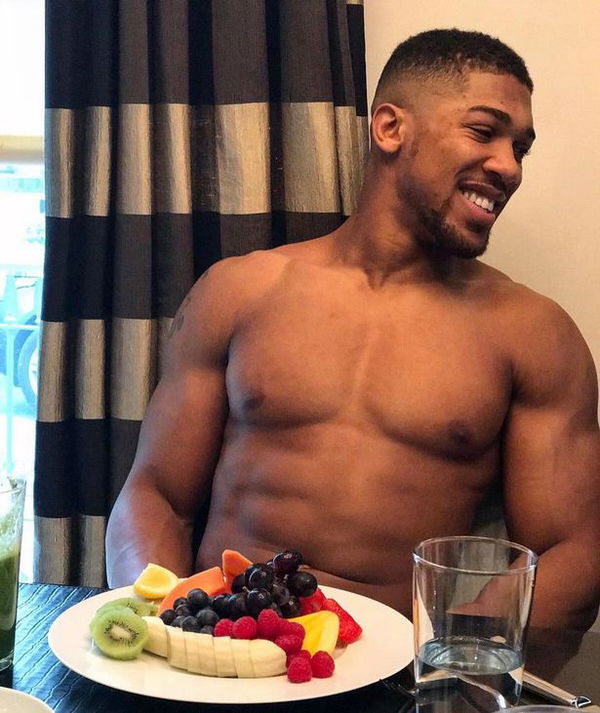 ---
---
Anthony Joshua is the holder of the WBA (Super), IBF, WBO, and IBO titles. Joshua who won gold at the London 2012 Olympics turned professional a year later. He has suffered only one loss in his professional career. That was against Andy Ruiz Jr. However, Joshua got revenge just 6 months later with a unanimous decision win to regain all his titles. 
ADVERTISEMENT
Article continues below this ad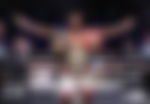 The British professional boxer is amongst the few heavyweight boxers to have a somewhat chiseled body. This can be seen in his Instagram post (below). Here he faces off against Andy Ruiz Jr at the pre-bout ceremony at Madison Square Garden in June. 
ADVERTISEMENT
Article continues below this ad
That may signify that the pugilist spends hours in the gym. However, his lean figure is a tribute to healthy eating habits too. One can't have one without the other right?
His diet is high on calories but his training regimen is intense which helps him burn them off. A Sports Joe article claimed that the British pugilist took in 4000 to 5000 calories per day whilst training for his bout against Wladimir Klitschko in 2017. 
His performance nutritionist Mark Ellison told The Times that everything his client consumes needs to be good quality. Ellison told Daily Mail in 2017, that he works closely with Joshua's trainer Rob McCraken to figure out what is needed. Based on what is read, Joshua's diet has a composition of a high amount of minerals, vitamins, fiber, and proteins. The amount of calories though has remained in somewhat the same range over the years. 
The superhuman diet of Anthony Joshua
Breakfast 
Anthony Joshua is a believer in the usual saying of a glass of water in the morning. A Sports Medicine study claims that lack of body water reduces strength, power and high-intensity endurance. Whilst a common man can aim to function without water Joshua will certainly be impacted. As stated above he has an intense training schedule to burn off the innumerable calories he consumes. A slight drop off will result in a minute shift in bodyweight leading to lethargy. And as we know in sports the smallest margins are massive and can completely derail an athlete's momentum.
Following his glass of water, Joshua moves on to fill up with nutrients, vitamins, minerals, and fibers. Fruits help him satisfy this need. The Daily Mail says that Joshua's breakfast includes 5 eggs, avocados, spinach and three pieces of toast. He also has a blender of fresh fruit with oats, yogurt milk, and honey. Joshua tells Men's Health that porridge too like fruits is packed with minerals and fiber. Also, Joshua says that this provides him with an energetic kick throughout the day. Joshua is said to have a second breakfast too in addition to the first while at fight training camps.
Lunch
For the second meal of the day, Joshua eats rice, salmon, and vegetables. He told Men's Health that this is something he can eat again for lunch itself. At times his lunch includes pasta and 2 full chicken breasts. His trainer adds that one chicken breast he picks up is equivalent to two at the local supermarket. Fruits vegetables to constitute vitamins and minerals that help Joshua stay healthy and be at optimum levels during his training as well as in the ring. His record of 23 wins and just one loss is a testament to this. 
Dinner
Despite being a pro boxer Anthony Joshua shows us that he is still human. He believes that foods one is familiar with can be fitted into a balanced diet. The Champion attributed his success to eating Nigerian dishes like pounded yam, Eba and egusi. During his fight with Klitschko, his dinner was said to be protein-based. It included sweet potato and rice.
Read: "I'm a party guy" Anthony Joshua Reveals Nigerian roots
ADVERTISEMENT
Article continues below this ad
Joshua even engages in cheat days. However, he says that it would be gluten-free. Joshua explains that by being clever in ways such as these he can have cheat meals that help satisfy his natural human cravings. However, according to a Fortisfight article, Joshua's cheat days do not see him indulge in sugary drinks. He only drinks water and fruit juices for energy, natural sweetness, and additional minerals. 
This is the sort of dedication one needs right? Not everyone can follow such a plan religiously and end up like this.
ADVERTISEMENT
Article continues below this ad
Trending Stories