VIDEO: Pesky Youtuber Who Harassed John Cena Lands in Hospital After Altercation With Logan Paul's Security
Published 08/28/2022, 8:15 AM EDT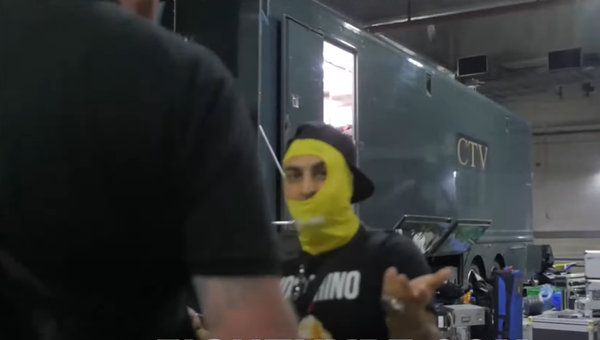 Apart from the perks of being a celebrity, there are also consequences to it. Fans can sometimes cross the limits by barging into a celebrity's privacy. A recent altercation has proved to be quite troublesome for a Youtuber, who was thrashed by Logan Paul's security. 
'The Maverick' was in London to support his friend and business partner, KSI for a fight, an uncanny event that has become a news topic. It can be seen in the video that a Youtuber named Mo Deen is running from Logan Paul's security guards. It happened because of an altercation between Mo Deen and Paul. Apparently, it didn't turn out well for Mo Deen, as he ended up in a hospital bed with a broken leg.
ADVERTISEMENT
Article continues below this ad
Mo Deen the guy that harassed John Cena & KSI over the years in viral videos just tried harassing Logan Paul & Logan Paul security beat his a$$! Police have been called and an ambulance. #DramaAlert pic.twitter.com/PSXRbEASNV

— KEEM 🍿 (@KEEMSTAR) August 28, 2022
Apparently, Mo Deen also had an altercation with WWE icon John Cena. The WWE star was shopping in a store when Mo Deen started taking a video of him. Cena even comments sarcastically, "thank you for asking". The Youtuber responds, "sorry, sorry", and continues to film Cena. 
Following that, Cena again says, "Be respectful. Ask if you can take a video." Mo Deen replied, "I'm famous." The WWE star then walked out of the store disappointed and said, "I don't want to talk to you." 
Who is Logan Paul going to fight next?
The 27-year-old had quickly become a known face in boxing when he fought five-division boxing champion, Floyd Mayweather. Even before that, he first had an exhibition boxing fight with fellow Youtuber KSI. Some time back, Paul also signed a massive deal with WWE, making him even more loved by his fans. 
ADVERTISEMENT
Article continues below this ad
Furthermore, he has revealed that he wants to make a boxing comeback probably in December. Paul stated in a video, "Yeah, that's why I'm late. I was sparring, I'm boxing now again. Yeah, we're getting back in the ring. We're gonna go from a professional sport like I want to get a fight in December. We'll see, I have some people in mind but I can't say Pal, you know you only get one first impression like that's part of my ability to make moments and I like making first impressions big and so I want to keep it a secret until we're ready." 
WATCH THIS STORY:  Top 5 Fights on Which Boxing Fans Would Pay Anything to Watch
ADVERTISEMENT
Article continues below this ad
But the question is, who is he going to fight next? Although the name of his opponent has not announced yet, but fans feel that it would probably be former kickboxer Andrew Tate or UFC fighter Dillon Danis. 
Meanwhile, what do you think about Mo Deen's altercation with Paul's security? Share it in the comments below. 
Edited By: Ajinkya Aswale