Wahab Riaz: Brave Birthday boy
Published 06/28/2015, 1:56 PM EDT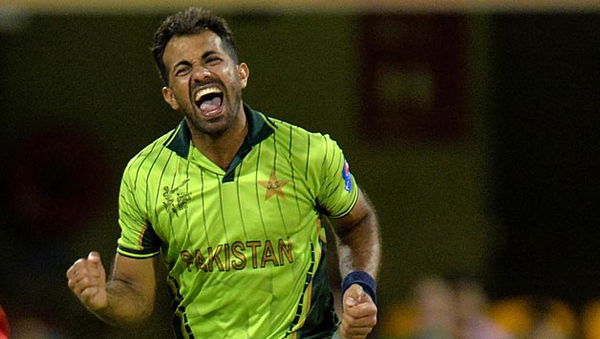 ---
---
One usually celebrates their birthday with their dear ones. If one is a cricketer, they would wish to perform and make it even more special. People get "birthday bumps"; Wahab Riaz got them too. It was a special Birthday indeed.
ADVERTISEMENT
Article continues below this ad
In the first innings of the second test against against Sri lanka, Riaz was hit on his hand in the first innings and had suffered a hairline fracture. But, that did not stop him from coming out to bat to help his team and garner some more runs to try and win the game. He came out to bat when Junaid Khan flashed at a wide one and was caught behind. Azhar Ali had scored a valiant 117 but not enough to get them past the line. It would have been easy for Riaz to come in and just give his wicket away but he did not do that, he is a fighter and he showed it once again.
Riaz is a fighter; he showed the world what he can do when he bowled a nasty spell to Shane Watson in ICC Cricket World Cup 2015. It took some time for Watson to come out of it, and all those who watched that spell have it etched in their memories. He fought again on his birthday, June 28, 2015.
Riaz was batting one-handed, even though he could not hold the bat that well. A full toss next ball was pushed to cover. He was wincing in pain, and continued battling against all odds because Pakistan needed runs at that stage.
Recalling some of the other acts of bravery to support the team's cause, which include Ken Mackay taking the final ball from Wes Hall in the chest to draw the 1960-61 Adelaide Test, Rick McCosker batting with a broken jaw in the Centenary Test, and Malcolm Marshall taking 7 for 22 at Old Trafford in 1988 with a fractured hand. Anil kumble also bowled with a fractured jaw and got the priced wicket of Brian Lara. Earlier in 2009, the then South African skipper Graeme Smith also decided to bat with a broken thumb against Australia.
"Wahab Riaz is in pain but he wants to fight," said Rameez Raja on air. On a day when he could have been easily excused for not coming out to bat, he not only batted, but fought as much as he could. Pakistan may still go on to lose the Test, as the hosts needed just 153 runs to win but Pakistan have found a hero and a fighter in Wahab Riaz.
ADVERTISEMENT
Article continues below this ad