BREAKING: Novak Djokovic Defaulted From US Open 2020
Published 09/06/2020, 4:24 PM EDT
By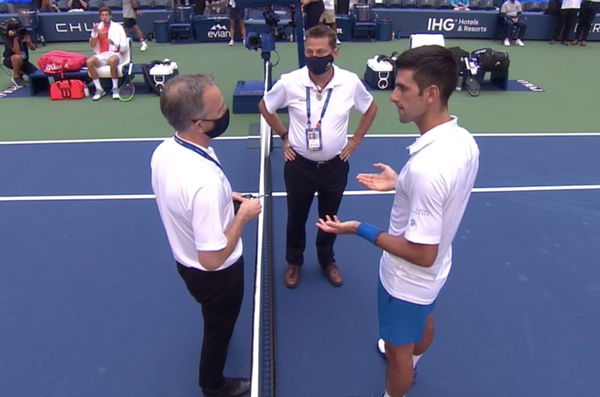 This year simply keeps getting crazier with every passing week. Unbeaten this season, Novak Djokovic looked in good touch despite the long break in professional tennis. He looked well on his way to his 18th Grand Slam at the US Open. However, an unfortunate incident has ended the Serbian's run in Flushing Meadows.
ADVERTISEMENT
Article continues below this ad
An angry outburst from Novak has resulted in his disqualification from the tournament.
Novak Djokovic makes way for Busta
ADVERTISEMENT
Article continues below this ad
Following a break of his serve by Pablo Carreno Busta, Djokovic's frustration got the better of him as he smacked a ball behind. Unfortunately, the ball accidentally hit one of the line umpires, who fell down from the impact.
As you can see in the video below, Djokovic rolls one of the balls to a ball boy but decides to smack the second one. Sadly, that will be the last ball he hits at the 2020 US Open.
A few minutes of discussion between the organizers and Novak followed. Ultimately, Novak Djokovic had to bid adieu to the tournament and make way for Busta. This was, however, far from surprising given the rules are very stringent when it comes to any harm done to the match officials.
ADVERTISEMENT
Article continues below this ad
The warning signs were already there. Having missed out on closing the set with set points in his hands, Djokovic had bludgeoned the ball just a few points before the above incident.
ADVERTISEMENT
Article continues below this ad
With the World No.1 no longer a part of it, the tournament is as wide open as we have seen in years. Names like Daniil Medvedev, Dominic Thiem, and Alexander Zverev will now have a much easier path towards capturing their first Grand Slam.
Novak's disqualification will no doubt send tremors in the world of tennis. With no Roger Federer and Rafael Nadal, Djokovic was the clear favorite to win the Major. Now, however, the picture has changed drastically with a surprise Major winner possibly on the books.