BREAKING: Sony Finally Announces PlayStation 5 Price
Published 09/16/2020, 4:48 PM EDT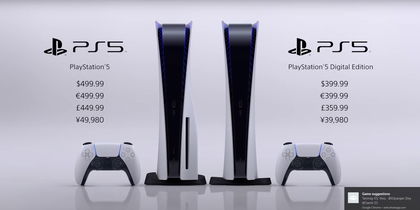 ---
---
Today's PlayStation 5 Showcase event announced the price for the next-gen PS5 console. The disc + digital PS5 will cost $499 and the Digital-only version is priced at $399. This is definitely great news for PS5 fans and could spell trouble for the folks over at Microsoft.
ADVERTISEMENT
Article continues below this ad
Over the past couple of days, multiple rumors suggested that the PlayStation 5 would be priced lower than the Xbox Series X. A Bloomberg analyst had suggested it would be $399 for the digital-only and $449 for the disc+digital version of the PS5. Looks like the prediction was absolutely spot on/ not very far from the actual price.
This definitely changes a lot of things in the 'console war'. This pricing definitely puts Sony in a favorable position and will definitely help boost their sales. While people may argue that there are other factors to consider, the price remains the most important factor when it comes to choosing between the two consoles.
ADVERTISEMENT
Article continues below this ad
Of course, the PlayStation exclusives are an added benefit and definitely attract people to Sony's rig. But the influence that pricing has cannot be overlooked.
The Showcase also revealed a lot more information regarding the pre-orders and the launch date of the console. There were also multiple game announcements that surely made fans all over the world happy.
ADVERTISEMENT
Article continues below this ad
PlayStation 5 price announcement changes things for Microsoft
Moreover, it will be interesting to see how Microsoft changes its strategy for Xbox. Even though they have the $299 price Xbox Series S, the sales for the Xbox Series X now hang by a thread. Xbox's pricing was termed 'aggressive', but Sony went beyond that. Microsoft is in a tough spot now, as the seemingly more powerful Xbox Series X is now at the risk of losing out the lion's share of the market to its counterpart.
Xbox Chief Phil Spencer had mentioned earlier that the Xbox is not the star of Microsoft's strategy anymore. Instead, the company will focus more on the Xbox Game Pass and the xCloud service. However, this doesn't mean that they wouldn't be worried about the console sales for Series X and S.
ADVERTISEMENT
Article continues below this ad
PlayStation's announcement is absolutely amazing and Sony can definitely expect huge demand for the PlayStation 5.